Our online incident simulation game is the perfect way to test how quickly you can respond in an emergency.
One scenario, six roles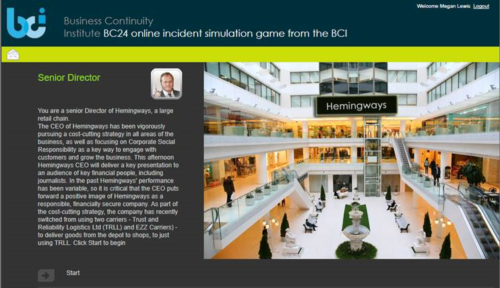 The game features a single scenario which incorporates three problems; a flood, supply chain failure, and damage to the organization's reputation.
BC24 condenses this incident into a short period of time and players face a series of choices to try and control the situation. These choices impact the outcomes, and players are scored based on these outcomes.
Everyone can take something from the game, as there are six roles which you can play – alone or with colleagues:
BCM Manager
Senior Director
HR Director
IT Director
PR Manager
Procurement Manager
After completing the game you'll even get constructive feedback on your performance.
Develop skills through gaming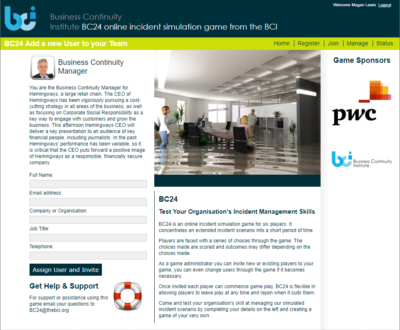 The game is designed to encourage critical thinking about the importance of decisions made in a crisis. It shows how these decisions can impact on the wider organization.
BC24 has data from 4,000 teams. It gives you a chance to benchmark against other organizations and is a perfect chance to analyse the way your team thinks.
Buy a license
Use BC24 to train your team all year round with a full license for the game. Contact us to find out more.