5 top reasons to attend BCI World Exhibition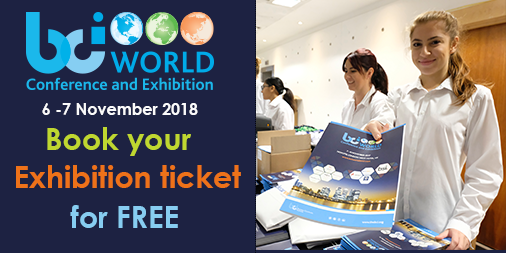 If you are interested in finding out the latest information in the continuity and resilience industry and would like to discover new products and services, BCI World Exhibition is an event not to be missed! Here is why you should be there:
It's free to attend
By attending the free exhibition, you will be part of the largest continuity and resilience event in Europe. Held over two days in London, it regularly attracts over 1,000 leading professionals. As well as exploring the exhibition floor, visitors will also have unlimited access to complimentary hot drinks in the lounge area.
2. Meet and interact with exhibitors from all over the world
Our exhibitors will share cutting edge technology, solutions and services covering the whole resilience continuum. You'll also have the chance to take part in many activities, , competitions and prize draws at the exhibition stands.
3. Join Exhibitors Seminars & Research Room Workshops
Exhibition Seminars: You'll have the opportunity to join our exhibition seminars, which are 30-minute bitesize sessions covering thought provoking news topics, demonstrations and case studies.
Research Room Workshops: Attend our discussion-based sessions, led by the BCI's Research & Insight Manager which will include a review of specific research report findings, followed by a facilitated discussion on the impact of the conclusions on your own organization.
4. Explore the Career Corner
Throughout the two days, there will be a series of presentations, discussions and networking opportunities dedicated to developing yours and your team's careers in business continuity and resilience.
5. A chance to meet the Editor of C&R magazine
The Editor of Continuity&Resilience (C&R) magazine will be at the BCI stand at regular intervals for you to pitch ideas for articles, give suggestions and have your say on the content in the coming editions.
To find out more about the exhibitors and to register for the free, please click here.
More on
About the author
Content Manager at the BCI