A day in the life - Paul Senior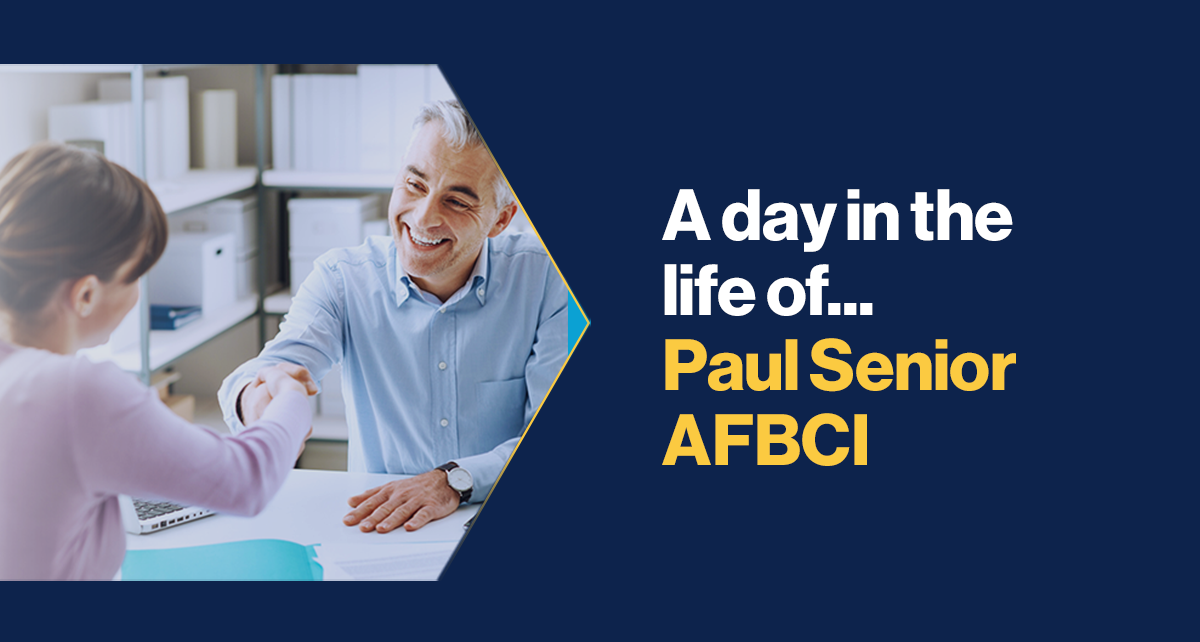 My Career Background

After spending my early career working for various elements of British Coal, due to an interest in IT and the growth of PCs I became the 'nominated' IT Support for the Mineworkers Pension Scheme in 1995. This was an area I had always had an interest in to be honest (I worked for Compower on mainframes in the late 80s), so saw it as a great opportunity.
Following privatisation, this progressed to supporting servers and infrastructure and what would become my first ever disaster recovery experience. We had a small server room at the time and a 3rd party engineer came into the room, stood on a server, then ripped a scsi cable out of the back of it as he stepped down. I was horrified and immediately heard multiple alarms! I didn't realise it at the time, but this was a pivotal moment in my career as I started to focus on recovery activities in addition to day to day support. Over the years, following outsourcing and mergers, I found myself taking on the role of Disaster Recovery Service Delivery manager for the organisation that I previously worked for, which were now an account of my current employer. This was when I decided to solely focus on this discipline as a career.
A further key moment in my career was when I took voluntary redundancy in early 2010. I realised prior to finishing, that although I had good, demonstrable skills and was seen as a subject matter expert in my organisation, I had no formal professional qualifications in the field to back this up. I did have my Microsoft qualifications, but nothing to validate my BC and DR knowledge. Considering I was going to be entering thethe jobs market for the first time since leaving school, this was very scary. I had attended BC forums in the past, but I'd never considered becoming a member. I won't lie, this was down to the fact there was minimal support in my business area for this and it was only when taking redundancy, I decided I needed to prove my capability to help me stand out when looking for a new job.
The process was quite daunting to someone who had no one to turn to for help and advice. I did some research and realised I needed to take the CBCI exam and upon passing with merit, I realised due to the experience I had, I was eligible to apply for MBCI. It took me a while to complete the application and collate my evidence, but thankfully I was successful and in July 2010 was awarded MBCI. I have since upgraded to AFBCI (2014) and am currently in the process of an FBCI application.
What I Do Now

I have formally worked in the Continuity & Resilience field since taking a new role back in 2010. My focus has been on developing solutions for customers and have been actively involved in a number of key bids for my company and designing solutions to meet requirements. Over the last few years, the focus has mainly been on direct consultancy engagements with customers. I have spent a considerable amount of time working in the retail sector which has allowed me to develop additional knowledge of a key sector.
As the industry has evolved, so has my own organisation and I am aligned to our Enterprise & Cyber Security practice. Whilst I still focus primarily on Continuity & Resilience, I spend a lot of time working on security projects. I am very customer focussed and enjoy my work in helping customers achieve their goals.
Over the last 3 years I have focussed on helping people in the industry and have served as a BCI mentor. This has been mutually beneficial as I have provided support and guidance to my mentees but have also learnt a lot about myself during this period – primarily about how I enjoy helping others. This has extended into other fields and the development of Junior resources, and is an area I am now very passionate about. I did not have this level of support back in 2010 and realised I want to help people as much as I can. I have assisted one of my mentee's in obtaining her MBCI in 2019.
I have served as a BCI awards judge since January 2020 and have actively participated in BCI forums.
A Typical Day at Work

We're in a strange period at present due to the pandemic. Whilst pandemic planning is part of a BC strategy, COVID19 has hit harder than anyone anticipated. This has actually resulted in me being extremely busy at this time as I suspect most people in the BC industry are. I have been primarily home based for over 15 years with travel as and when required to customer sites. As you'd expect as a consultant, this has resulted in frequent travel but due to restrictions, am constantly working from home. This is challenging, especially due to it being over a sustained period, but one that I will need to continue in all likelihood until the end of 2020 at least.
It's difficult to pin down a typical day at work. At present, it consists of numerous conference or video calls with my organisation, accounts or customers. Video calls have been a great way of keeping in touch. I have a team of 7 reporting to me ranging from degree apprentices to Senior Consultants so always set time aside in each working week for catch up meetings either individual or as a team
During more normal times, I usually spend 2-3 days on the road and the remainder at home. I will work on client sites when required and base my projects around being client side for roughly half of the week. Just the normal pattern of a consultant life. I do feel this will change when we get back to some level of normality as I feel organisations realise face to face contact is not always needed. It will be interesting to see how this progresses. I do enjoy site work however, as I am a real people person.
Favourite Parts of My Job

Whilst I have always enjoyed working in this field, I feel now that I am really enjoying helping people, be they new entrants into the industry or people with experience just in need of additional support and guidance. Supporting and coaching people due to the experience I have gained is something I thrive on and enjoy sharing my knowledge and passion. In addition to this, I thoroughly enjoy working directly with customers, helping them improve their business operations and achieve their goals. I am proud that I have an externally published case study on my company website, following work I did with a customer in the financial sector back in 2015.

Most Memorable Incident

This one is more about the response from an individual at the company it impacted as opposed to the incident itself. I had spent time working on a proposal for an organisation and the Head of IT, who was the budget holder at the time said, and I quote 'we've not had one DR incident in 25yrs, I don't need to undertake this work'. Six months later, their Data Centre was hit by an inclement weather issue, and upon our return a few months later after we'd been called back in, the same person said 'we've only had one instance in 26yrs, I don't need to spend any money'. I won't lie, I did have a little smile at his take on things!
Goals for the Future

As mentioned above, my passion is helping people. Helping customers achieve improvements and efficiencies, helping colleagues with their work and helping people develop. I genuinely see myself as someone who can offer a lot to the industry be it via coaching, mentoring, training or education. My main goal here is to get more involved with the BCI in this area, and provide additional assistance with developing the mentoring programme both within the BCI and the wider BC industry. I do feel I have encountered issues and challenges in the past with my own BC journey and I would love to work with and to help the BCI learn from this.
Words of Advice for Other Business Continuity Practitioners?

The primary one for me is to have belief in yourself. When I assisted my mentee, she did not feel she had the skills to apply for MBCI. I was able to help her realise she had significant experience and skills and perhaps did not have that prior belief. A key comment she provided to me for a paper on mentoring I wrote was 'Mentorship isn't just for those new to the profession: it can make the difference between doubting and believing what you can achieve at any stage of your career'. The comment about doubting and believing spoke volumes to me – and this is true – believe in yourself.

About the author

Managing Consultant, Fujitsu
Paul is a highly experienced Security, Risk, Continuity & Resilience specialist, and certified Privacy Practitioner. A certified ISO22301 Lead Auditor, he has many years experience in Consultancy, advice and guidance, and delivery. In addition to this, Paul holds an MSc in Forensic Accounting alongside his BA (Hons) in Business & Management. Paul has been a member of the BCI since 2010 having worked in the Business Continuity & Disaster Recovery field since 1995.
In his role as a consultant, Paul has worked with many organisations across multiplie sectors providing him with a high level of knowledge within the field. Seen as an expert in his field, he has an externally published case study for the delivery of a Continuity programme for an International Finance organisation. 
Paul is an active member of the BCI South Midlands Forum, for which he is involved in planning and delivery of form events, whilst also participating the BCI North East events as an attendee