A Deeper Understanding of Resilience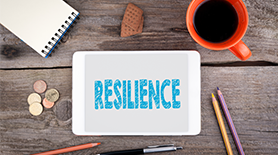 There are many discussions on the concept of 'resilience' at the moment and this term has become a 'buzz-word'. But what lies behind this concept and what are its origins?
The following research papers would help you to understand the history, background, and various aspects of the concept of 'resilience.'
1) David E. Alexander / Resilience and disaster risk reduction: an etymological journey
This paper illustrates the origin of 'resilience' since Latin, Middle French, and English at 16th century, and the history how have this term were used in various literatures and publications since 16th century with many examples. According to this paper, 'resilience' started to be used in the papers of mechanics in 1850s, and then began to be used in various disciplines including psychology, ecology, and social science from 1950s. This paper shows the background of the concept of resilience.
2) Sonny S. Patel, et al. / What Do We Mean by 'Community Resilience'? A Systematic Literature Review of How It Is Defined in the Literature.
The authors searched 615 literatures including 'resilience', 'disaster', and 'definition' and filtered them to 80 by systematic method. As the result of reviewing them, they found nine core elements of community resilience as follows; local knowledge, community networks and relationships, communication, health, governance and leadership, resources, economic investment, preparedness, and mental outlook.
3) Cristina Ruiz-Martin, et al / What we know and do not know about organizational resilience
This paper is also the result of systematic literature review. The authors reviewed 191 literatures related to organizational resilience, and they found that there are three main streams in the conceptualization of resilience: (1) resilience as a feature of an organization (i.e., something that an organization has), (2) resilience as an outcome of the organization's activities (i.e., something that an organization does); and (3) resilience as a measure of the disturbances that an organization can tolerate.
You would find long lists of references at the end of each paper. It must be difficult for us to read papers as many as that, however it would be possible for us to broaden our perspective and know various aspects of resilience with reading three papers above. And it would help us to discuss 'resilience' deeply as experts.
This blog was published as part of BCI Education Month 2018.

About the author
Tokyo Office Manager
Kuniyuki Tashiro is a consultant in Minerva Veritas, who have experience for consulting of business continuity management and risk management in Japan since 2005. He provides consulting service for various industries, especially he is an expert for business continuity of manufacturing companies. He also work for BCM awareness raising activities as seminars and workshops especially for small and medium enterprises. BCI Asia Awards – BCM Consultant of the Year 2013 and Industry Personality 2018