Asis Europe 2018, From Risk to Resilience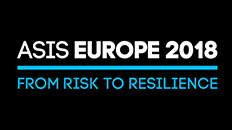 ASIS Europe 2018 will take place on April 18-20, 2018, in Rotterdam, The Netherlands. The event will focus on securing organizations in the era of IoT and highlight how Enterprise Security Risk Management (ESRM) approaches can protect an organization's full range of physical, digital, and human assets.
The "From Risk to Resilience" event format launched in Milan in March 2017 will be repeated, with its mix of conference, training, technology and solutions, exhibition, career center, and exclusive networking.
At the conference, themed "Blurred Boundaries—Clear Risks," attendees will tackle the impacts of big data and artificial intelligence, plus, be provided with up-to-date risk outlooks, case studies, and analysis across the full range of key security management issues. BCI members can benefit from conference discounts by using the code at the end of this page.
Conference highlights include:
Opening keynote on Big Data, automation and artificial intelligence from the business perspective – Tom Raftery, Global VP, Futurist, and Internet of Things Evangelist, SAP.
Virtual Security Operation Center Transformation: How to Utilize the Cloud, Big Data and Machine Learning, Michael Foynes, Senior Director of Global Operations, Global Security, Microsoft
How Digital Asset Valuation Impacts Risk Assessments, Carl Erickson, CPP, CISO, Philips Lighting; Gal Messinger, Head of Global Security, Philips Lighting
Understanding and Measuring Business Resilience, Laura Poderys, Business Continuity Manager, Group Physical Security, Danske Bank
GDPR and its Impacts on Enterprise Security, Axel Petri, senior vice president group security governance, Deutsche Telekom; Dr. Christoph Rojahn, director of forensic services, PricewaterhouseCoopers
Kidnap Case Study: Duty of Care and Risk Management Perspectives, Glenn Pettersen, Head of Security and Emergency Preparedness Exploration Business Area, Statoil ASA
Crisis Management Training - Managing Data Extortion Crises, Erik de Vries, CPP, Dutch Risk; The Stevens, CPP, Senior Security Officer, NN Group Corporate Security & Investigations
Advanced rates available until March 8th with full registration including the President's Reception at €910 (ex. VAT), for BCI Members instead of €975.
If your organisation wants to send 3 or more delegates, contact europe@asisonline.org directly to discuss a Group package: -20% for 3 or 4 delegates and -30% for 5 or more delegates.
More than just a conference - ASIS Europe 2018 also provides:
Exhibition and Technology and Solutions track, bringing solution providers and practitioners together to address complex, emerging challenges
Training modules geared towards team members and new security professionals seeking to gain focused, practical skills with well-defined learning outcomes
ASIS Europe Career Center including the European Salary Survey, career and transition coaching, diversity in security, and much more
If you are a BCI member log in to see exclusive discount code to attend this event.