BCI Canada Chapter - Future Leader Applications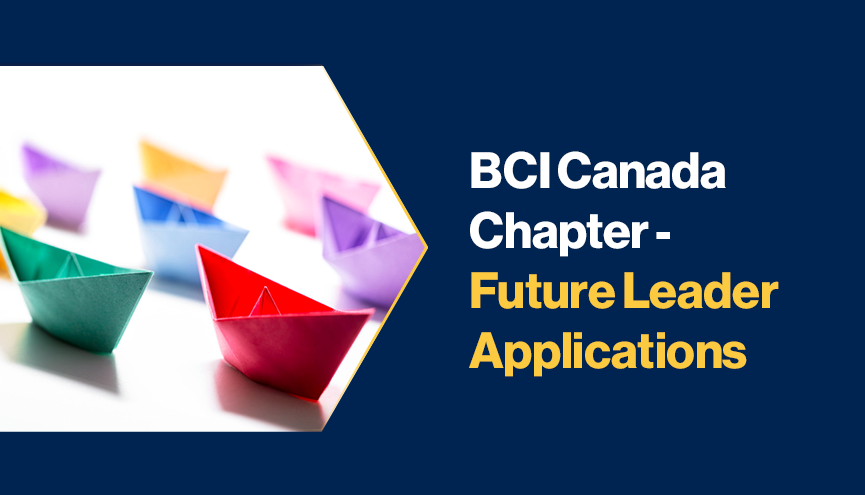 The BCI Canada Chapter has announced that applications are now open for its Future Leaders Program. The program was first launched two years ago with the objective to ensure that professionals new to the industry are engaged and have an active voice in decision-making forums.
Des O'Callaghan, BCI Canada Chapter Leader, adds: "You are never too young or inexperienced to get involved in our leadership team. We value all opinions and ideas. Your participation in the shaping of BCI presence in Canada will be a great experience to exercise your leadership and collaboration competencies, which will contribute to your career development."
The tenure of the position will be from June 2022 to May 2024. As a result of the position, the successful applicant will become a voting member of the national Chapter leadership team, have an active voice and role in evolving the Chapter, and the ability to make an impact on its progression. It will also allow them to earn Continuing Professional Development credits for their voluntary contributions.
The role will require the applicant to actively participate in virtual Chapter board meetings, attend an annual face-to-face meeting (subject to COVID restrictions), and propose, agree and deliver a specific project to add value to the Chapter and community over the tenure of the role. They should also prepare to write 2-3 blog posts per year to share their experience with the wider community.
To apply, candidates must be:
• actively working in a BC and/or organizational resilience role
• have been working in the industry for less than 3 years
• be a Student, Affiliate or voting member of the BCI
If this applies, forward the following to [email protected] by 6th June 2022:
1. CV, resume, or link to your LinkedIn profile
2. A statement of no more than 600 words stating why you would like to be a BCI Future Leader and how you can add value.
The BCI Canada Chapter Committee will review applications and notify all candidates of the outcome by 15th June 2022.
More on