BCI Global Continuity & Resilience Professional (Private Sector) winner: Melanie Lucht MBCI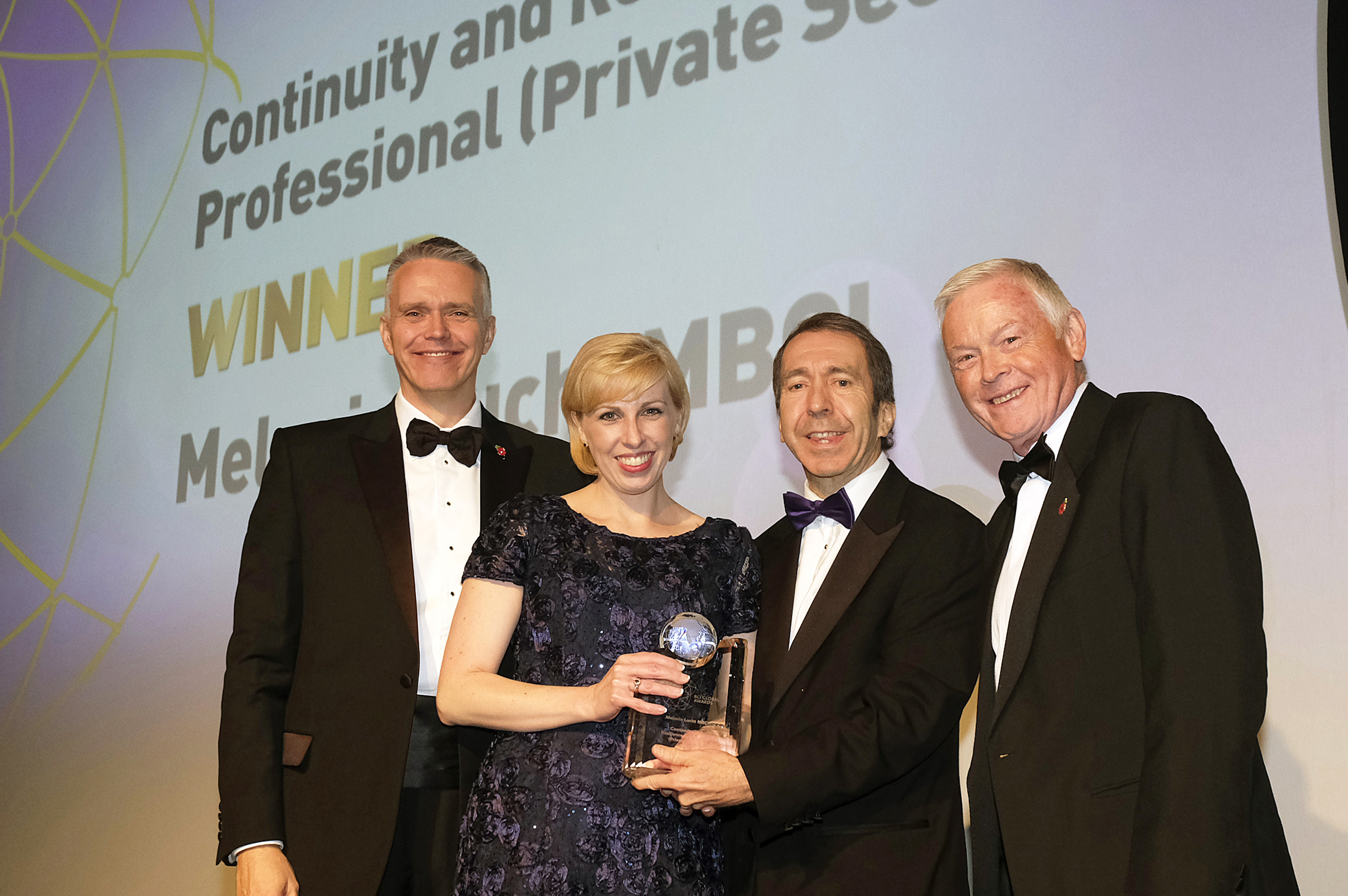 The winner of the 2017 BCI Global Continuity and Resilience Professional (Private Sector) Awards is Melanie Lucht MBCI.
Melanie has been actively involved in business continuity for nearly ten years. In 2013, she established a sustainable business continuity program for Carnegie Mellon University. Four years later, the program thrived with over 100 business continuity plans, 60 disaster recovery plans, and it's still growing. During her time at Carnegie Mellon University, she led the acquisition, configuration, and implementation of a risk management technology solution.
In August of 2017, Lucht was named the Assistant Vice President of Enterprise Risk Management for Carnegie Mellon. This role oversees Environmental Health and Safety, Disaster Recovery and Business Continuity, and Risk Operations.
She has led the execution of multiple business continuity initiatives throughout the university. These initiatives cover every aspect of the Business Continuity Management Lifecycle, from training to exercising. She also conducted initiatives for human resources and campus services. Through these simple initiatives, over 45 business continuity plans were developed and exercised.
Over the course of her career, Melanie has spoken to many conferences including, DRJ Fall World Conference in 2010, 2015, and 2016; DRIIs Conference in 2015 and EDUCAUSE in 2014. She is a member of the BCI and of the Three Rivers Contingency Planning Association, and she is the founder of a consortium group of business continuity professionals in the Higher Education that meets on a quarterly basis.
"Winning a BCI Global Award was one of the proudest and humbling moments of my career. Receiving a recognition like this amongst such an amazing community of peers and mentors was truly an honor. Additionally, to arrive home from the Global Awards to be further recognized by my work colleagues has truly been a wonderful and rewarding experience. As a result, support for our Business Continuity Program has never been stronger, and our community of champions continues to grow. My sincere gratitude to the BCI for this award." - Melanie Lucht MBCI
Could you be the winner of the 2018 BCI Global Awards? Submit your entry for your BCI Regional Awards 2018 for your chance to win and be automatically entered for the BCI Global Awards.
Visit the BCI website to see when your regional awards open and for more information on how to enter.
To be considered for BCI Continuity and Resilience Professional (Private Sector) Award, judges look for evidence on how the individual has used creative and original approaches within their employing organization to improve overall resilience. Evidence of effective planning, response and recovery from the impacts of actual or potential disruptive incidents will add weight to the application.
More on