BCI Launches Brexit Preparedness Tracker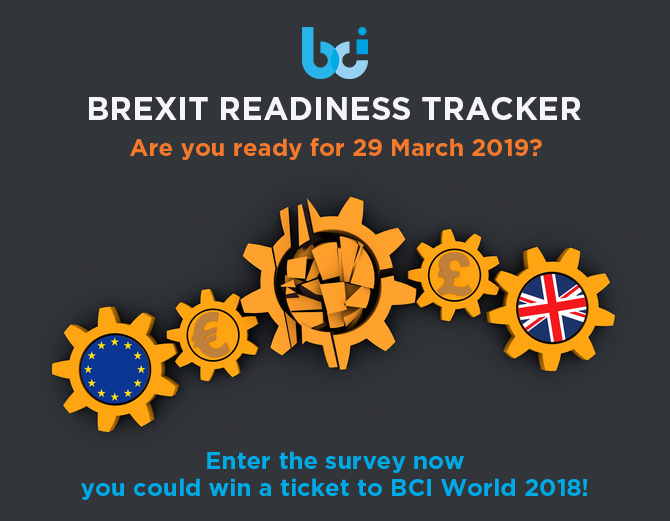 With only a few months to go before Britain is due to leave the European Union, the BCI is pleased to announce the release of its Brexit Preparedness Tracker, a survey designed to measure the level of preparedness of organizations as the leave date approaches.
The tracker is intended to provide both a barometer of companies' sentiment towards the various Brexit options as the leave date approaches on 29 March 2019, but also to give a rounded view of business preparedness.
From the results, the BCI research team will be able to build a powerful picture of how prepared global businesses are, as well as providing respondents with the ability to benchmark themselves against their peers.
As Brexit will have a global impact, we welcome entries from organizations based all over the world. Brexit has the potential to be a disruptive event for the UK and EU, but it could also be an opportunity for other countries to build new relationships and agreements with the UK and vice versa. That is why we believe it is important to get a global picture on the level of preparedness for Brexit.
The survey will be running regularly in the run up to Brexit to help gauge how sentiment is changing. The results of this initial survey will be launched at BCI World 2018 in November, in London.
The survey can be accessed by clicking here.
We appreciate that some of you may wish to remain anonymous with your answers, but if you provide your details on the final page of this survey, we will award a free ticket to BCI World for a survey participant picked at random.
More on
About the author

Communications Executive, The BCI