BCI Launches First "Communicating Risks with a Global Workforce" Report as Part of Business BCAW 2018
Crisis communications plans and travel risk management plans should be 'part of the business planning and not an after-thought'
The BCI in partnership with the International SOS Foundation and Everbridge, has released the first "Communicating Risks with a Global Workforce" Report demonstrating the value that travel risk management and, specifically, crisis communications can provide to the safety of the mobile workforce and protection of financial resources.
The report assesses the importance of travel risk management communication with regard to; crisis handling, management buy-in, cross-functional working, speed and accuracy, practiced preparedness and benefits. The report findings comprise of two qualitative methods. The first one was a literature review, the second one was a content analysis based on interviews with senior risk, physical security, and business continuity practitioners.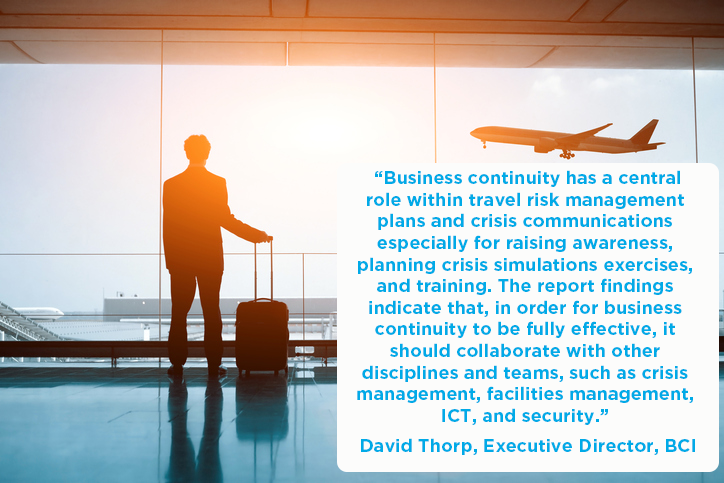 Key findings from the report include:
Top management is a key function in establishing policies for business travel and crisis communications. Travel plans should be approved, implemented, evaluated, and updated regularly.
There was general consensus between the interviewees that notification software systems facilitate communication and help with accountability. Whereas travel risk management plans help increase productivity, protect reputation, and make organizations more competitive.
Employees are also a key consideration of travel risk plans, as they are provided with measures to protect themselves and stay safe in emergency situations. This represents a great asset for any organizations because it strengthens the morale and builds trust between employees and their employers.
The theme emerging from the report is that there is the need for organizations to be pro-active when planning for a crisis. Crisis communications plans and travel risk management plans should be "part of the business planning and not an after-thought".
Click here to download the report.
More on