BCI Middle East Awards – a chance to stand out from the crowd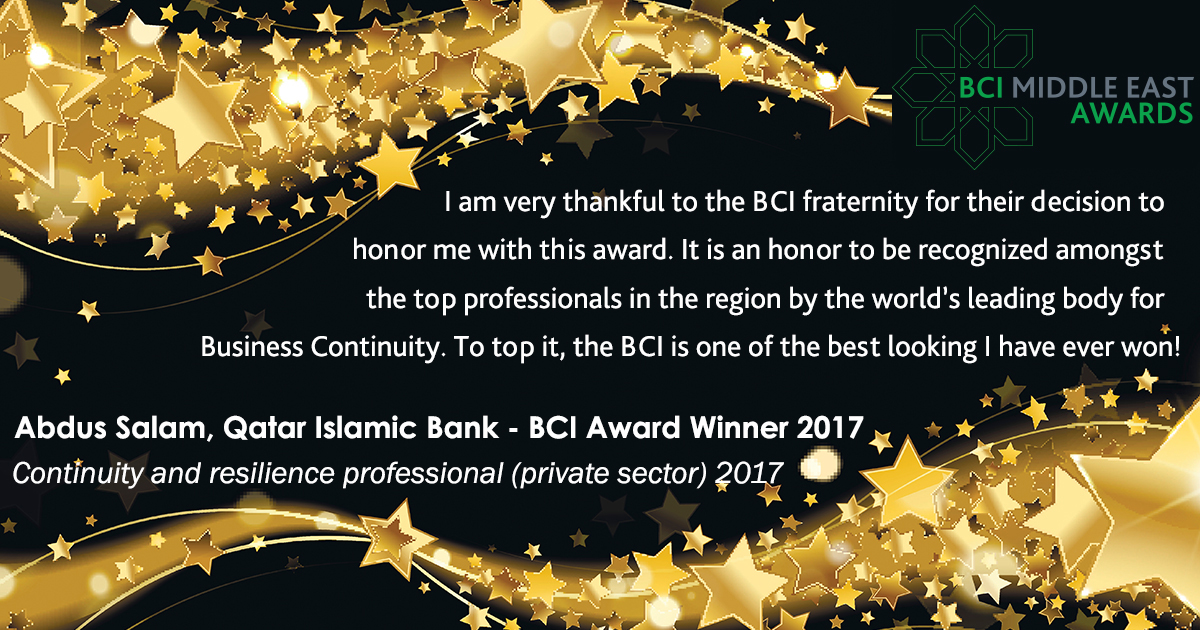 The BCI Middle East Awards 2018 opened earlier this month and we are encouraging talented and passionate professionals and organizations to submit nominations for a chance to win.
Representing one of the top accolades in the business continuity and resilience industry, these awards recognise hard-work, great professional experience, and outstanding contributions to the industry.
Winning or being shortlisted for one of these awards is a great achievement that will benefit both your professional profile and career. Previous winners of the BCI awards have witnessed increased visibility and improved reputation after their win, and they recommend future business continuity and resilience professionals enter the awards for the chance to win a career-boosting accolade.
There are nine categories, for both professionals and organizations. Eight of these are overseen by a panel of judges and one is decided through a public vote. Choosing the right category is the first step to enter the awards: whether you are entering as a professional, a consultant, a team, and/or an organization, there is a category right for you.
Submitting your entry is the second step: make sure you include all the required evidence and documentation. Highlight your most remarkable professional achievements, successful projects, and any other noteworthy initiative through which you have contributed to the business continuity and resilience industry.
Then you simply have to wait for the shortlist announcement on the website. Remember, being shortlisted is also a great achievement; our judging panel are very serious and if you have been shortlisted it means that they have seen something special and outstanding in your application.
All winners of the BCI Middle East Awards will be automatically entered to the BCI Global Awards, which will be held in London next November.
For more information about the BCI Middle East Awards please click here.
More on