BCI World 2019: Case Study Highlights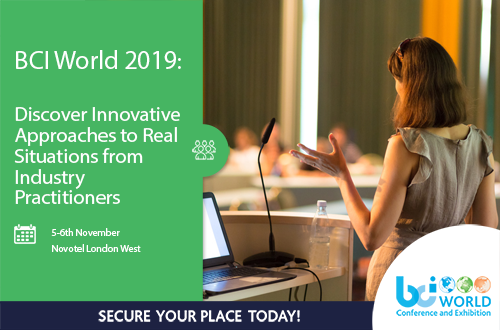 Discover Innovative Approaches to Real Situations from Industry Practitioners at BCI World 2019 this November.

This year's BCI World Conference programme features a strong selection of case studies shared by industry professionals who want you to benefit from their lessons learned. Attend these sessions to gain practical takeaways that you can bring back to your team.
Outsourcing Management: Key Instruments Towards Becoming More Resilient
5th November, 14:00 - 14:50
Discover the perils organisations face when they do not manage outsourcing properly and find out how Bert Burkels MBCI achieved co-operation across departments to implement a policy for outsourcing in all countries for Addiko Bank. Find out more.
Game Over - When Recovery Reaches Its Limits
6th November, 10:00 - 10:45
Join Justine Arnoux AMBCI and Sorina Dunose as they reveal how Ubisoft's Security Team is changing how Disaster Recovery is approached in their organisation. Discover practical examples of how you can innovatively invest in IT resilience. Find out more.
Building Resilience in the World's Busiest and Fastest International Airport
6th November, 11:55 - 12:30
Exclusive to the BCI World 2019 Conference, this session with Captain Mohammad Y Almarri will shed light on the 5 main areas of the Business Resilience model employed by the General Directorate of Residency & Foreigners Affairs (GDRFA) in Dubai. Find out how GDRFA handles the ever-changing risks faced by the world's busiest international airport. Find out more.
0 - 60 in 12 Months
6th November, 14:00 - 14:45
After joining Experian in summer 2017, Head of Business Resilience Dean Beaumont FBCI quickly realised that their model for business continuity wasn't working. Dean took on the challenge of training 60 new BC practitioners head on with the help of the BCI Corporate Partnership, working collaboratively with the BCI to innovate a solution to mass training. Find out more.
Register for a 1 or 2 day conference pass now to access all these case studies and more!
More on