BCI World Conference & Exhibition 2018 – Day Two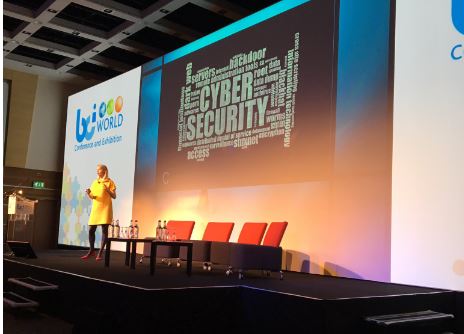 The second day of the Conference & Exhibition included networking, insightful workshops and research sessions.
The programme for day two explored the themes: The Hive-Mind, IT & Cyber Resilience, Working with Risk and Public Sector Case Studies.
Today's keynote speaker was Dr Jessica Barker, a leader in the human nature of cyber security. In 2017, she was named one of the top 20 women of influence in cyber security in the UK and was the winner of the TechWomen50 Awards.
Jessica used her psychology and sociology background combined with her cyber security expertise to discuss what is likely to be important, worrisome or even terrifying for cyber security teams and what business continuity teams can do to improve outcomes from these situations for organizations.
There was also an interesting panel discussion chaired by Rebecca Anderson from PwC exploring the changes in the industry this year.
Here are the key highlights of some of today's sessions:
The need for collaboration in Modern Day Cyber Incident Response
Dominic Cockram, Partner at Deloitte LLP, raised awareness of the major third-party support requirements that become vital to managing modern incidents using a series of case studies around major ransomware attacks and data breaches.
Discovering the different faces of resilience
Andy Dunn, Director of Daisy Availability Services, explored the findings for Daisy's latest customer survey to share insight into the business priorities of its corporate base and how we can align Business Continuity and Resilience thinking to things that appear to be business priorities. He provided valuable insight into understanding the strategic direction of our own businesses.
What's the real impact when your application is down? You can find out within 30 minutes!
Drs. Frank Jansen CISSP CBCI, Senior Advisor of Business Continuity at Royal Dutch KPN, presented the key questions to ask for determining impacts fast and demonstrated an impact analysis tool used at Royal KPN to deduct a classification level (Critical, High, Medium or Low) with related RTO and RPO.
What makes a great BIA Interview?
Brian Zawada, Director of Consulting Services at Avalution Consulting and Ian Charters FBCI, Director of Continuity Systems Ltd, applied the guidance in ISO 22317 and the GPG PP3 to create structure and focus to the BIA interview, the appropriate business continuity requirements are more likely to emerge ensuring that the appropriate BC solutions will be selected in the design phase.
In addition to these thought-provoking sessions, James McAlister led a live interactive panel discussion involving an extraordinary incident in an everyday office. This was conducted via the conference app, engaging with the audience to influence how the incident played out.
The theme this year was chosen to reflect the changing nature of our industry and the environments we all are working within. The programme explored how business continuity and resilience professionals can strengthen their organizations in even more innovative and collaborative ways.
We have already started thinking about our exciting plans for BCI World 2019, so make sure you save the date.
The BCI would like to thank this year's headline sponsor - Sungard Availability Services, platinum sponsors - Blackberry, Daisy and Clearview as well as Gold sponsors- Everbridge, Plan B Consulting, BC Training, Regus workplace recovery and Fusion Risk Management.
More on