BCI World Virtual 2021 Headline Sponsor: Fusion Risk Management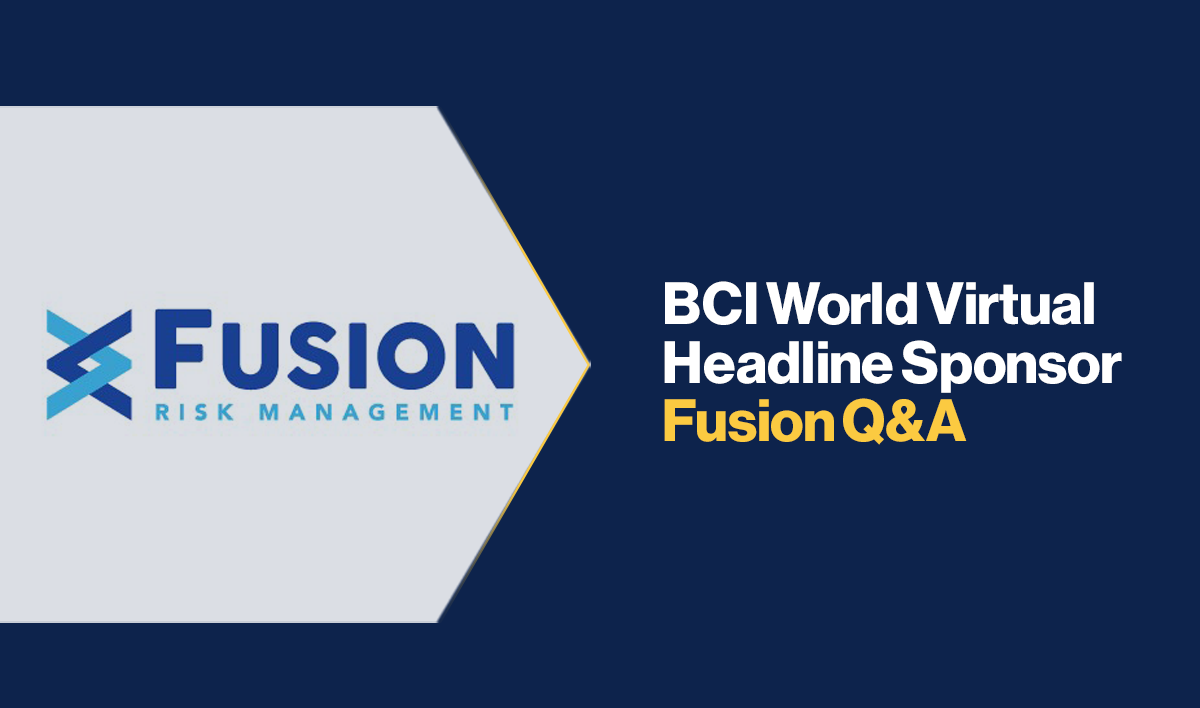 We are delighted to announce that Fusion Risk Management is once again headline sponsor for BCI World Virtual. The BCI sat down with Fusion for a virtual chat on Risk Management and why BCI Virtual is important to the Business Continuity Industry.
Q1. How does BCI World Virtual Contribute to the BC Industry?
The events of the last 18 months have not only demonstrated the importance of keeping pace with emerging and ever-changing resilience challenges, but they have also highlighted the usefulness of sharing ideas as a community. BCI World Virtual enables global business continuity & risk professionals to learn and share ideas with their peers. No matter where they are based in the world, this virtual event allows them to gain advice and support for a range of business continuity-related challenges they face.
As operational resilience evolves, having a forum where to share ideas, questions, and insights is necessary to drive future-ready innovative solutions in a post-pandemic environment.
Q2. What will your virtual booth feature this year?
The Fusion Risk Management virtual booth will feature a wide range of materials focused on educating business leaders about business continuity & resilience developments, and what they need to be aware of to understand the ever-changing business continuity environment. It will feature lots of informative materials such as case studies, whitepapers, tutorial-focused video content, 'how tos' and more.
Q3. What are one of the most important aspects of building organisational resilience?
Organizations realize they need more than just a risk and crisis program. They need a robust operational resilience program built on an integrated range of activities - connected to governance, risk management, and compliance - to effectively operate in today's dynamic market environment.
To build operational resilience, companies must break down silos that hinder creating a company-wide resilient culture. Eliminating barriers between risk disciplines enables companies to foster an integrated system where every employee understands risk company-wide. Making a cultural shift in this manner ensures you can meet customer needs consistently and efficiently and always deliver on your brand promise.
Q4. Can you identify any ongoing trends or key risks that will stop a company from being able to achieve organisational resilience?
To achieve operational resilience, companies must go beyond analyzing internal operations and look at third parties. Recent incidents, such as the Colonial Pipeline cyberattack, demonstrate the critical impact of third-party supply chain disruptions on organizations. Furthermore, when working towards achieving a strong operational resilience program, one cannot assume that all third parties have the same due diligence and preparedness for disruption. No company exists within a vacuum; every company within a web of third parties can disrupt your operations. Investment in a comprehensive third-party risk assessment is therefore critical to protect your reputation as a service provider and as a business leader in your space.
It is also important to remember that resilience is not a checkbox exercise. If the growing number of cyber-attacks over the past year are anything to go by, it's not a question of if, but when, a major attack will be directed towards your company. We know that it only takes one successful cyber-attack for an entire system to crumble. So, for those companies who don't already have organizational resilience high on the agenda, now is the time to do so. Anything less is simply preparing to fail.
Q5. How do you build operational resilience into a work culture during times of remote and hybrid working?
Working from home is not a risk-free endeavor both from a technology and HR perspective. From a tech/IT perspective, home offices are typically not equipped with the same physical and virtual safeguards as the workplace. As a result, organizations face heightened information risk, privacy risk, and legal and technical risks. To mitigate these risks, businesses can protect themselves by instilling a security-focused culture. Periodic security awareness training, using multi-factor authentication, encryption, timely patching, and access management are just some of the essentials of an effective information security program.
From an HR perspective, establishing good policies, and implementing employee training systems is also vital. Companies can utilize an effective remote work policy that separates work from personal life while implementing a robust security awareness program.
Q6. Why attend BCI World Virtual 2021?
BCI World Virtual offers a unique global perspective to risk and resilience professionals. The diverse program offered at BCI World Virtual, ranging from expert speaker sessions to networking and individual chats, provides an opportunity for industry peers to share ideas and connect. This year's virtual setting of BCI World allows professionals to engage with a diverse international audience and learn how to combat new emerging risks from world-leading resilience specialists. As the industry landscape evolves, this collaboration and sharing of ideas will drive new innovative solutions.
More on