BCI World Virtual 2021 Platinum Sponsor: Castellan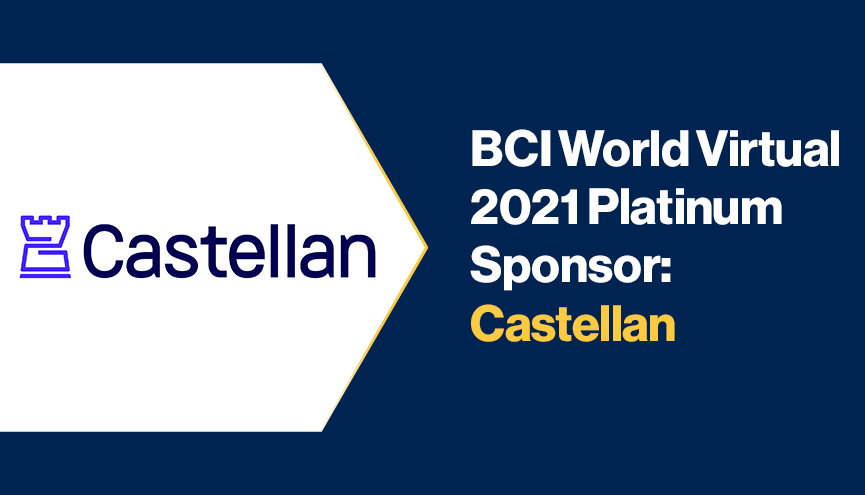 We are pleased to welcome Castellan as a Platinum Sponsor at BCI World Virtual 2021.
Castellan is the coming together of industry innovators Assurance, Avalution, BC Management, and ClearView to form one powerhouse provider that can meet the needs of organizations large and small. Castellan brings every aspect of business continuity and operational resilience together in one place, so you can stop hoping and start knowing. Whether you're just getting started, need a little extra help, or want to overhaul an under-performing program, Castellan is ready to provide strategic guidance and hands-on help to strengthen the resiliency of your organization. There is no one size fits all when it comes to business continuity and operational resilience. With Castellan, you gain a strong and experienced partner that will help you identify the right balance of risk tolerance and resilience for your unique organization.
Castellan will be showcasing their solutions at BCI World Virtual 2021 Exhibition. Make sure you visit their booth to learn more about what they can do for your business.
The Exhibition is free to attend for everyone (you just need to register as a Visitor). Your Visitor pass includes:
Access to the Networking stream to learn and discuss the latest topics with your peers (See full programme here).
Access to Live Product Demos and Roundtables from some of the industry's leading suppliers (See full programme here)
Interact one to one with colleagues from around the world using the personal chat feature.
Visit the Virtual Exhibition to see some of the best products & services in the industry, where you can discuss requirements 1-2-1 via video chat. See all exhibitors here.
Take part in the Treasure Hunt and enter exhibitor competitions to win some amazing prizes.