BCI World Virtual Platinum Sponsor Conducttr Q&A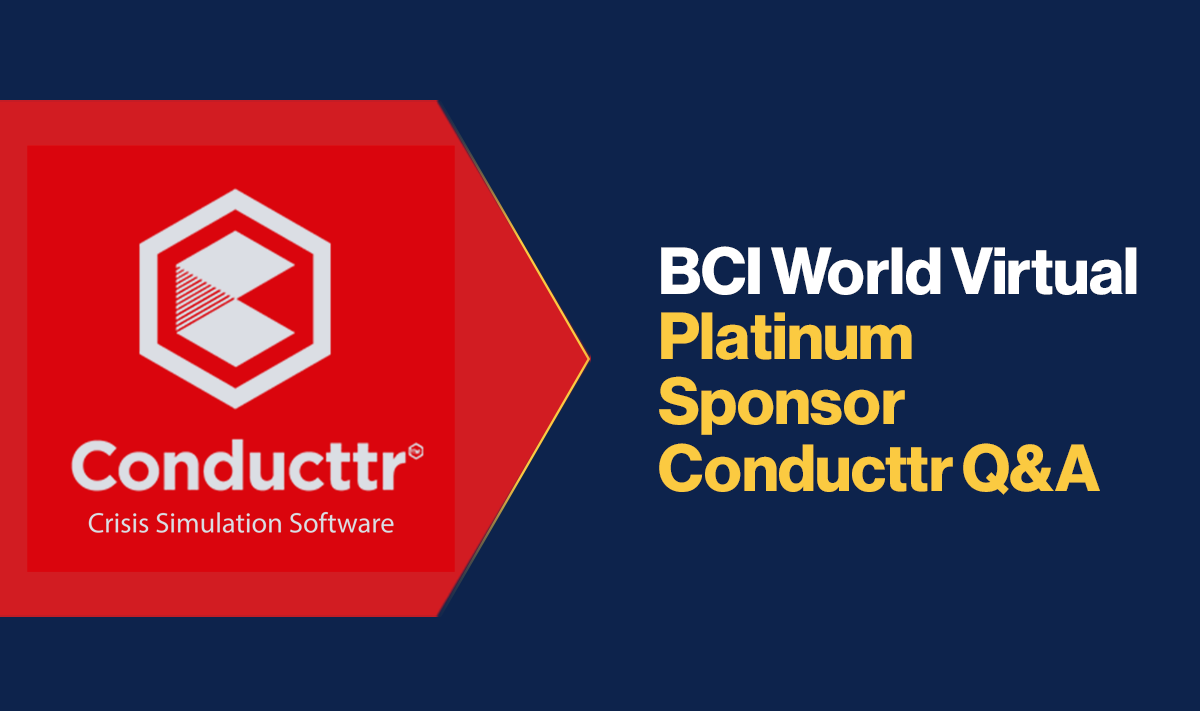 Q1. How does BCI World Virtual Contribute to the BC Industry?
BCI World has become the must-attend event for the sector. Having worked with clients across varied industries, we realized BC professionals stand out because of their strong sense of community: they truly understand the value of sharing knowledge to become more resilient. The BCI has always recognized that need and nurtures opportunities for the community to grow. BCI World Virtual is the ultimate manifestation of that important sharing practice, especially now that the pandemic is keeping us physically apart. For us, being Platinum Sponsors of such an event couldn't be more aligned with our vision.
Q2. What will your virtual booth feature this year?
In our booth at BCI World Virtual we are presenting V16, a new release of Conducttr crisis simulation platform, which represents a huge step-change in capability and ease of use. This new software release is optimized to create immersive information environments and run exercises that require the training audience to manage and track situational awareness and take decisive action for scenarios such as cyber-security exercises, reputational risk, or any business continuity threat.
Q3. What is one of the most important aspects of building exercises?
Realism. An exercise must feel realistic for the audience to engage with it and feel its relevance. For that reason, we have built a platform that enables our clients to create their own exercises: they are the subject-matter experts on their BC plans, and they know their company better than anyone. Conducttr is fully customizable to create scenarios of the unique threats each company is dealing with. By creating their own simulations, our clients recreate their familiar channels, media, and potential dangers, so the training audience can feel immersed in an environment that feels relevant and realistic.
Q4. Do you think remote exercising is as effective as in person?
Indeed, if you have the right tools to deliver remote exercises. If remote training is misunderstood as just a slideshow and a lecture, delivering it over Zoom will be as ineffective as doing it in person. We believe in immersive training, where a virtual desktop allows the training audience to interact and experience a crisis first-hand. Exercise facilitators can control the exercise across different countries and time zones, while observing and tracking players' performance through dedicated dashboards and widgets. Using Conducttr, players can participate using embedded videoconferencing, team chats and shared documents, as effectively as they would do while working remotely. In fact, one of our upcoming features is completely devoted to our trust in the effectiveness of remote exercising: Conducttr Portal allows our clients to offer ready-made crisis exercises to their business units and regional offices, so they can be customized, localized and run independently.
Q5. Can you outline three key ways a company can create radical change when preparing for future business threats?
For us, radical change comes from adopting truly engaging training. Our motto, "experience is everything", leads to three main key ways to prepare for business threats:
Train to build trust: having experienced a simulated crisis together strengthens confidence and increases effectiveness while delegating.
Design scenarios for a first-hand experience: a realistic exercise makes training audience feel and care about what is at stake.
Allow discussion and after-action review: reflection and feedback encourage players to take ownership of issues when they arise in real life.
BCI World Virtual will take place on the 3rd – 4th November 2021 and will feature a host of global expert speakers engaging in specialist discussions and workshops needed to elevate the industry as whole.