Book review - Crisis management by Regina Phelps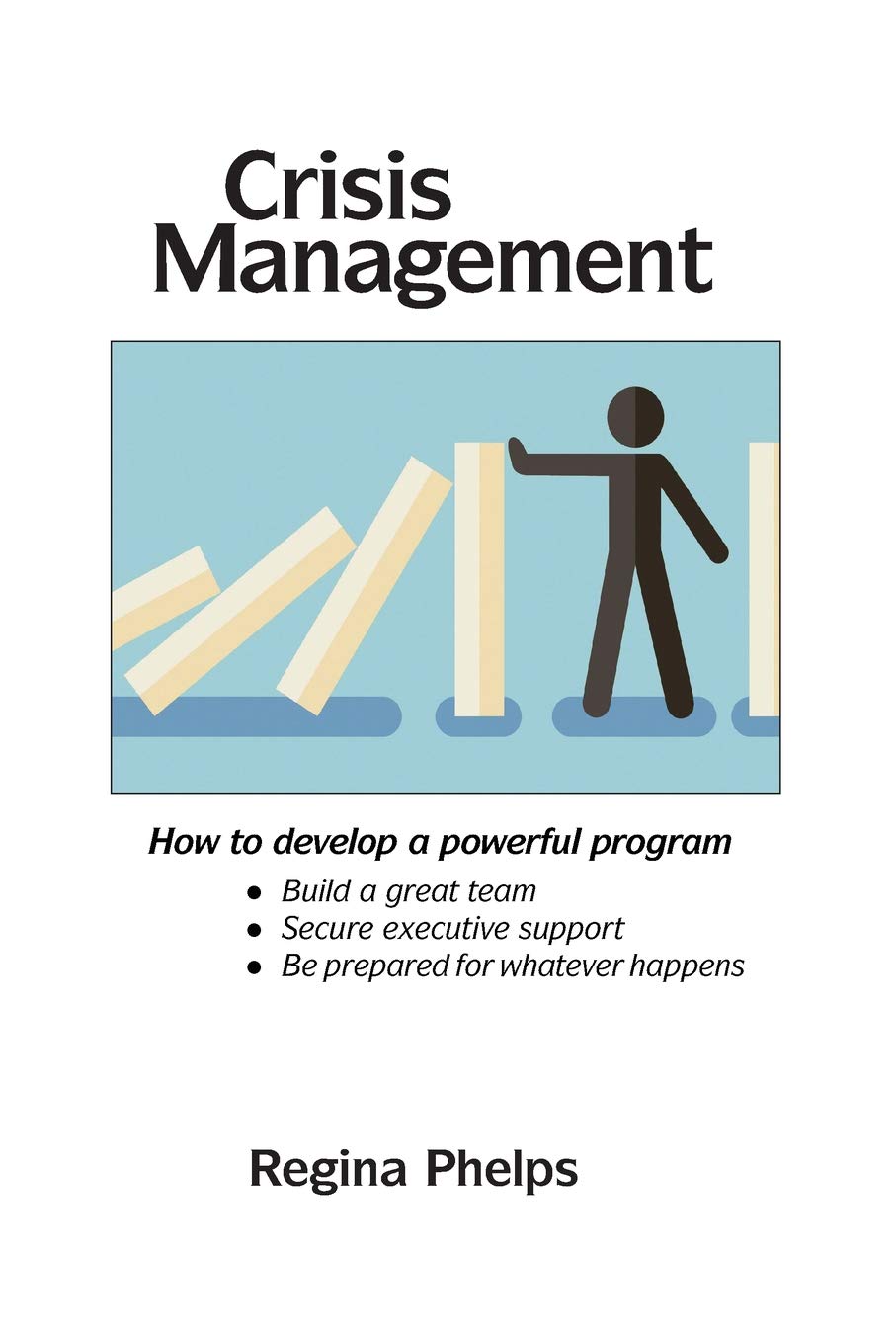 Regina Phelps is well known in Risk Management and Business Continuity circles as an expert on many topics ranging from Crisis Management to Pandemic Planning. Her book, Crisis Management, captures every principle and best practice in the most concise and clear manner that I've personally seen, ever. Her extensive experience in Crisis Management is the obvious basis of the practical journey she takes you on. For those who have heard Regina speak, you can hear her voice in every page as she leads you through the wisdom gleaned throughout her career.

Regina provides the who, what, when, where, why and how, yet still manages to eliminate unnecessary verbiage. The utilization of lists and bullet points in nearly every chapter, along with many charts, provides easy to use information. For someone who appreciates "just the facts" and the "5 Ws", the layout of the material is exceptional from those perspectives. I found the flow of the book to be logical as each new chapter builds on the last, as every good book should. The sections make an easy reference point for those who want to skip ahead to a find a specific topic or aspect of building a Crisis Management program.

For the novice this is a step by step roadmap. When implemented and practiced, this guidance will bring you into a state of readiness. From there tackling some of the most disruptive types of events would be easier than doing it without the advice of this book. Each chapter lays a solid foundation for program management that touches on key elements of basic concepts, planning, training and on through to exercising and evaluation.

For those who are intermediate practitioners, the book will serve well as a guide to improving programs already in place. Two examples are the characteristics to look for in leaders and the clear picture of how an EOC works. For those who have basic plans and are working to improve the program, these have incredible value. The incident commander checklists are another item that is full of logical but often overlooked tasks to keep recovery running as smoothly as possible.

Regina's discussion of the concept of VOI (Value of Investment) versus the typical ROI conversation is a core concept. If you've not heard of VOI before, this chapter is well worth reading. The soft values a well-managed Crisis Management program brings to the table are topics that can be presented with confidence to everyone in the C-suite. The current business climate, where reputation and compliance are at the forefront for many organizations, make the points listed here timely.

For those who've been through many recovery operations over the years, there were several things I thought were particularly beneficial and would recommend looking over. The section on sustaining an EOC and the battle rhythm that is needed for a long recovery effort was targeted and clear. Her guidance on standing down an EOC is something few of us have practiced regularly, making her advice beneficial. Many of us know the concepts here but don't have the opportunity (thankfully) to activate on a regular basis, so this section and Regina's suggestion of exercising EOC operations are important.

I appreciate the entire book as a good measure for a plan and Crisis Management Program audit. There are multiple models available, but what I liked about the potential of the book from this aspect is that the checklists and bullet points in each chapter would make an easy outline for those who are looking to identify key components without requiring significant research time or resources.

The quotes she selected at the beginning of each chapter add a timeless aspect to the practical concepts she lays out. With the glossary of her terms at the back for easy reference, this book is complete. The amount of information and Regina's expert guidance make this book well worth a day's reading. In my opinion, it brings it to the place where it is a outstanding reference for nearly every person who aspires to maintain best practices for their Crisis Management program.
Crisis Management by Regina Phelps
Published by Chandi Media Copyright 2018
ISBN 978-0-9831143-5-2, LCCN 2018909246
More on
About the author

Risk Management & Business Resilience Director
Vicky McKim holds a Master Business Continuity Professional Certification. She is a Certified Risk Management Professional and is a Fellow of the Business Continuity Institute. Vicky has over 30 years of experience in the field of risk management, business continuity, and disaster recovery, including BCM Program Director for two global organizations. Vicky has spoken and taught at national, regional, and local conferences for more than 15 years and regularly contributes articles for publications. Her experience provides her audiences with a proven perspective on how to improve risk controls and continuity for their business operations, along with many practical examples of what the next steps may look like. Vicky's stories and practical guidance empower those listening, to take action to create more resilient environments for their workplace.