Case study: PwC Canada and their use of the BCI's Introduction to Business Continuity eLearning Course - with Edward Matley, National Crisis & Resilience Leader and Partner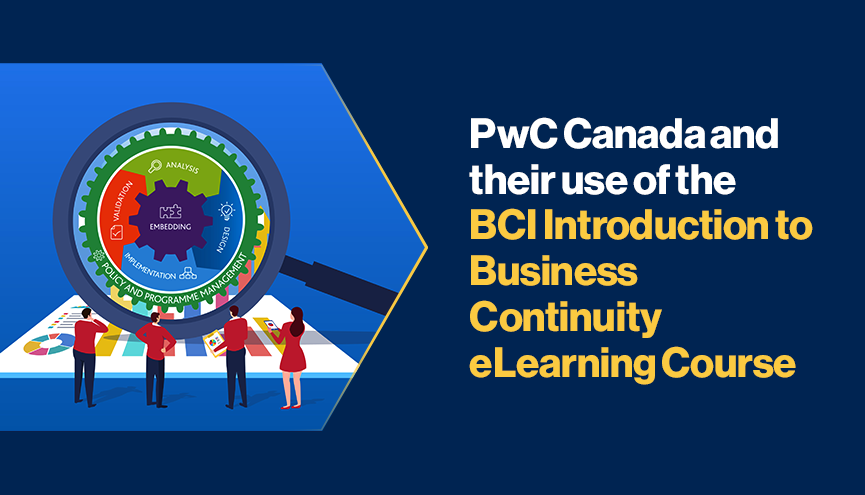 Recently, we had the pleasure of interviewing Edward Matley, National Crisis & Resilience Leader and Partner at PwC Canada, to discuss how they use the BCI Introduction to Business Continuity eLearning course for their staff, and the benefits that it brings to their various business areas as well as to the service to their customers.
The benefits of eLearning
"I think that having something available to everybody for an organization is super useful if they are interested in BC. It's a really good feeder for those people who care to get involved in their BC programme." – Edward Matley
As discussed with Edward Matley, eLearning is a critical resource to develop not just those directly related to the BC programme but a wider, interested audience as well.
"We have a small team who are dedicated BCM practitioners, who follow a very traditional certification route. However, we were looking for an introductory training product that wasn't for that dedicated group of practitioners. This is because we would regularly get requests from people who were in adjacent fields, who were interested in BC, either to do internal audits for programmes or were interested in joining the team, and they wanted a general overview of BC," he adds.
BC training is particularly important when trying to increase buy-in across the organization for the BC programme. For example, if people across the organization have some basic training in BC, they are able to understand the importance of it and why BC measures are necessary. This also increases the quality of the information going into the BC programme.
For PwC Canada, purchasing the BCI's Introduction to BC eLearning course also meant reducing the time spent by their practitioners on developing content for an introductory BC course. According to Matley, PwC Canada had previously created their own hour-long 'Intro to BCM' learning course, but that it was too broad a topic to cover in an hour. He explained also that it was "a lot of effort for us to develop and sustain those materials." Effectively, they were looking for educational content that had a higher level of engagement than a webinar, but also didn't last multiple days. The BCI Introduction to BC eLearning course was a great solution according to Matley, "it was a good length and looked really good. Also, when we compared it to the cost of our senior team developing an in-house programme, it made absolute sense for us to go ahead with it."
As Matley also explained, the BCI eLearning course found space in another area of the business. He explained that while there is typically a BC office or full-time BC practitioners in an organization, there are also people in different business units who have responsibility for keeping the programme up to date. Matley notes that one of the challenges of sustaining BCM programmes over time is that BC may not be the highest priority for all staff members in a business unit. Of course, these people have a lot of operational responsibilities in their day-to-day roles, so adding BC can create a bit of tension between them and their usual duties if they don't understand its criticality. An introductory eLearning course like the BCI's is a good way of providing them with basic training, understanding, and awareness of BC.
Moreover, in these business areas, when those with responsibilities linked to BC are promoted to a different position or leave the organization, their awareness of the importance of BC might leave with them. Matley adds that these responsibilities "can then be left with someone who maybe doesn't have that same awareness. Therefore, it's critical for them to be trained."
Using the course
Once Matley's team had purchased the BCI eLearning Course, they were able to send it to those people who had requested an introductory course as part of their in-house learning platform, with it involving very little set-up time.
The eLearning course was also used on occasions where PwC Canada would receive larger projects that they couldn't fully staff and would need to bring someone in from an adjacent risk discipline. In these circumstances, they would use the eLearning course to train additional staff members from other disciplines. This meant, when they started working with them, they already had a good understanding of some of the terminology and how things flow together across the BC programme.
"There's now value added to our core team. If we need to take somebody who is an adjacent practitioner, normally we'd have to spend quite some time with them because we can't let those people go straight out and deliver services to clients. While they're always going to be working with a practitioner, it significantly reduces the time that a full-time practitioner has to spend on training somebody who is new to the firm or BC in general," adds Matley.
When it comes to the ROI of the BCI's Introduction to BC eLearning Course, Matley explains that the course provides a general understanding that enables members of staff to better perform with clients, he says "that's the return on investment for me, they are better able to deliver a quality service to clients and the impact on our full-time practitioners is significantly less."
The importance of continued training
"The message we give our clients is to make sure they are training their people so what goes into the programme is high-quality." – Edward Matley
Matley adds that one issue PwC Canada faces is that, as consultants, they usually go into an organization, build a BC programme and then leave the organization to maintain it. However, this is where the importance of continued training kicks in, particularly with regards to making sure new people are trained when they have staff turnover.
Indeed, the BCI Introduction to Business Continuity eLearning course is useful in these situations as well. "When a client first develops a programme, everybody will be trained, and they'll probably get more hands-on training. When people move over time and they get the honour of maintaining the BC programme, they won't have received the benefit of the training. So if they have somewhere they can go, where it's reasonably paced and they can do it all at once, it's so beneficial," says Matley.
When looking at BC training across an organization, it's also important to establish who will benefit from introductory levels of training and who will benefit from further training.
Matley explains, "In my mind, when we're developing training programmes for clients, we're developing it in three tiers. The first is for executives, the people who are responsible and accountable for the programmes, then there's an amount of training that people who have an active role in the BC programme need (whether that's the BC office or those given accountability within the business units for it) and then there's everybody else."
When it comes to training for everyone else, a certain level of awareness is required. For example, being aware of what the procedures are for them in the event of a specific incident. However, they will not need to know the technical knowledge and components of the BC plan.
"They need to understand that their organization has some kind of emergency notification system and that it's not spam. They need to know where to get status updates and not to post updates about incidents affecting the organization on their social media" continues Matley. Alternatively, he says, "when we look at those people required to develop BIA templates for organizations, they will require more than a base level of awareness and may look to proceed down a certification route."
The BCI offers a wide range of education & training resources that cater for BC professionals/practitioners and those with BC responsibilities, as well as those that need a general or basic understanding of BC and BCM practices.
To learn more about the BCI's eLearning Course, please follow the link below:
More on
About the author
Director, PricewaterhouseCoopers LLP