Cyber-attack top business threat for third year running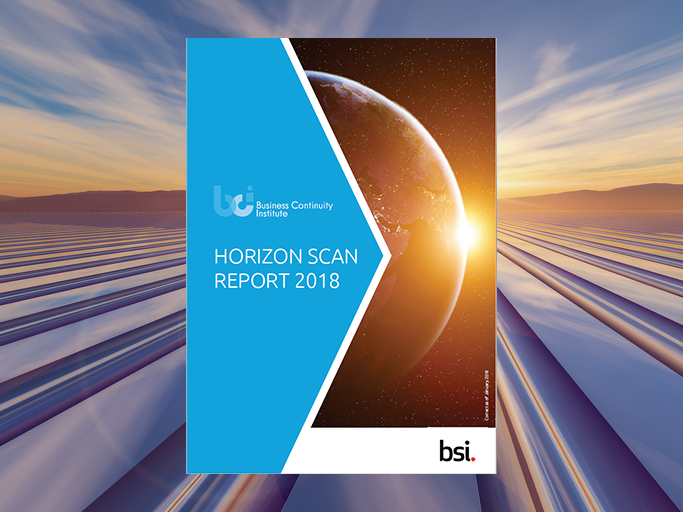 Business continuity uptake is growing and organizations keep investing in business continuity programmes.
Caversham, UK – 9th February 2018: The large-scale cyber-attacks that took place last year reaffirmed the need to build cyber resilient organizations, according to the seventh edition of the BCI Horizon Scan 2018, released today in association with BSI. For the second year in a row, the threat of data breach was ranked second.
The annual BCI Horizon Scan assessed the business preparedness of 657 organizations worldwide and shows that 53% of business continuity and resilience professionals are 'extremely concerned' about the possibility of a cyber-attack. Meanwhile, 42% are worried about the possibility of a data breach, and 36% concerned about unplanned IT or telecom outages.
Physical security challenges also remain a major concern for organizations, with 18% of businesses identifying interruption to utility supply and adverse weather as severe threats. There is an intrinsic connection between these two concerns, as severe weather events – such as hurricanes Irma and Harvey – often damage infrastructure and utility services. This unavoidable chain reaction reinforces the importance of workplace recovery plans to help organizations become better prepared for crises, ensuring the safety of their staff and the stability of their operations.
The report also suggests that professionals are becoming increasingly aware of the benefits that business continuity bring to their organizations. The uptake of the international management system standard for business continuity (ISO 22301) is growing, as is the investment made into business continuity management (BCM) programmes.
Moreover, the results of the report suggest that there is a positive correlation between the amount of time organizations adopt and embed BCM arrangements and the likelihood of businesses to keep investing in them. 86% of organizations who have had business continuity plans in place for five years or more stated that they will either increase or maintain their investment in business continuity. The report proposes that this could be due to the fact that professionals are starting to see a return on investment (ROI) from their business continuity plans.
Both SMEs and large enterprises are more inclined to maintain their investment in business continuity at appropriate levels, with only 6% (SMEs) and 12% (large enterprises) planning budget cuts; a reduction of 1% and 4% respectively from last year's findings.
Gianluca Riglietti CBCI, author of the report, said:
"The Horizon Scan Report 2018 reveals how a wide range of threats concern organizations moving forward. Cyber-attacks and data breaches are still one of the main worries for professionals, especially with the increasing adoption of internet-connected devices. However, physical security incidents seem to be a growing concern, such as terrorism or gun violence. Practitioners should also remain vigilant about natural catastrophes and pandemics, that could occur in the short term and have a highly disruptive impact. On the other hand, organizations seem to be headed in the right direction in terms of preparedness, as the uptake of business continuity arrangements shows consistent growth."
Howard Kerr, Chief Executive at BSI, commented:
"With the stakes continuing to rise as the development of more sophisticated smart technologies gathers pace, organizations can't afford to be complacent. They may be cognizant of the importance of business continuity, but it's not just this that will build their organizational resilience; a much more holistic approach is required, focussed on understanding all strengths and vulnerabilities. It's worrying to see that 29% of our respondents still don't have access to the important information that helps them conduct longer term analysis for horizon scanning, and 23% do not conduct any kind of trend analysis at all.
"Ultimately, organizations must recognize that, while there is risk, and plenty of it, there is also opportunity. Taking advantage of this means that leaders can steer their businesses to not just survive, but thrive and ultimately be more resilient."
​---ENDS---
Log-in and download your copy of the report
More on