Dealing with the COVID-19 crisis as a young BCM professional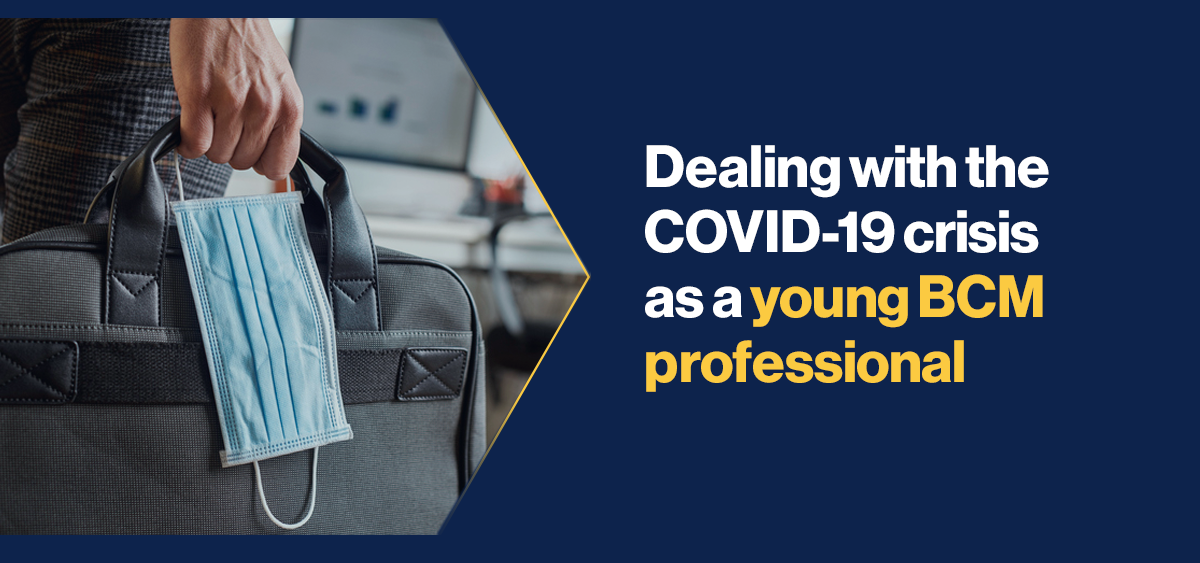 This article is a personal testimony on how I lived, and still live, the COVID-19 crisis as a young BCM professional. More particularly, I share how I felt and what actions I took during the crisis. I also share how I plan to leverage it in the future. But, before that, let's give you a bit of context to better understand my background when the crisis struck.
Shifting from theory to practice
Studying industrial engineering was an incredible opportunity to learn how to optimize flows and processes in an organization in order to increase performance. However, when I started a course in Business Continuity, my mindset changed. The 1998 ice storm in Quebec was one of the first examples presented to me to illustrate why it's so important for a company to get prepared for a crisis. I realized that, yes, increasing a company's performance is essential, but, even before that, a company needs to know how to protect its critical activities and maintain crucial operations at all times.
Since then the adventure continues ... I started my BCM professional life more than 4 years ago. I have heard about many other examples of crises, but had not experienced a crisis affecting the company I work with before COVID-19.
Obviously, this crisis did not spare the company I currently work with. Like thousands of others, we had to react and adapt our way of working.
How I felt during the COVID-19 crisis?
Voluntarily, I want to start by sharing some emotions I went through during this crisis. It may not be the first reflex for everyone. If I were to ask a professional in crisis management or business continuity how they lived through this crisis, they may start by listing the actions they took, the crisis management mechanisms that were triggered in their company, the priority order of business-critical activities that was established, and so on.
And yet, for the past few weeks, I have heard about webinars on "stress management during COVID-19" or on "how to maintain employee well-being and mental health during a crisis".
Stepping back and taking the time to put words to our emotions may be extremely beneficial. I think it could help us, as BCM professionals, to better understand how we lived through this crisis and how we could react even better next time.
Personally, here is a non-exhaustive list of the emotions I went through:
Concern
We heard a lot about the disease and sometimes I worried for my family and friends and had a hard time focusing on my BCM professional role.
How did I manage this emotion? I tried to take it easy, accepted that I needed to have breaks and adapted my work hours.
Hopelessness
I did not have a role to play in my company's crisis team and I was not asked to help with the crisis or business continuity management response. At the beginning, I felt useless and was frustrated at not being able to help more.
How did I manage this emotion? Even without being a member of a crisis team I understood there were things I could help with at my own level. I detail the actions I took in the next section.
Optimism
On a more positive side, several times during the crisis and still today, I was impressed by the collaboration between BCM professionals. The number of webinars, articles, and sharing of experiences is incredible!
What actions did I take?
At my level, here are the actions I took during the crisis:
Helped organize a webinar for professionals to share their experience. More details here
Started centralizing relevant information (eg: priority list of business activities for each office, work-from-home needs for each office, etc.) in order to reuse this information afterwards in our Crisis/BC programs
Asked questions on how the crisis management structure was set up, how the communication between the different crisis teams works, the main challenges, etc.
Continued to work on my priority: our DR program because we never know what crisis will come next
And after?
In a few words, this is all about taking a step back, learning lessons and improving our programs. More precisely, here are some examples of how I plan to leverage this crisis in the future:
Internal post-mortems will be performed, hundreds of articles will be written and external webinars are available. I hope I will take time to review the relevant information in order to improve the BC/DR/Crisis programs of my company.
With the help of some of my colleagues, we will start updating the BCPs with the new information we learned from the crisis while the teams that have been very strongly mobilized during the crisis take a breath. Then, the time will come to get back to them and get their input to improve the plans.
Take advantage of this crisis to reinforce our awareness campaign about Crisis/BC/DR topics.
About the Author
Justine Arnoux is a practicing business continuity/disaster recovery specialist at Ubisoft, one of the world's biggest gaming companies. She is the first appointed board member of BCI Canada through the Future Leaders Program.
More on
About the author

Risk Specialist (BCP/DRP)