Earthquake strikes in the Aegean Sea between Greece and Turkey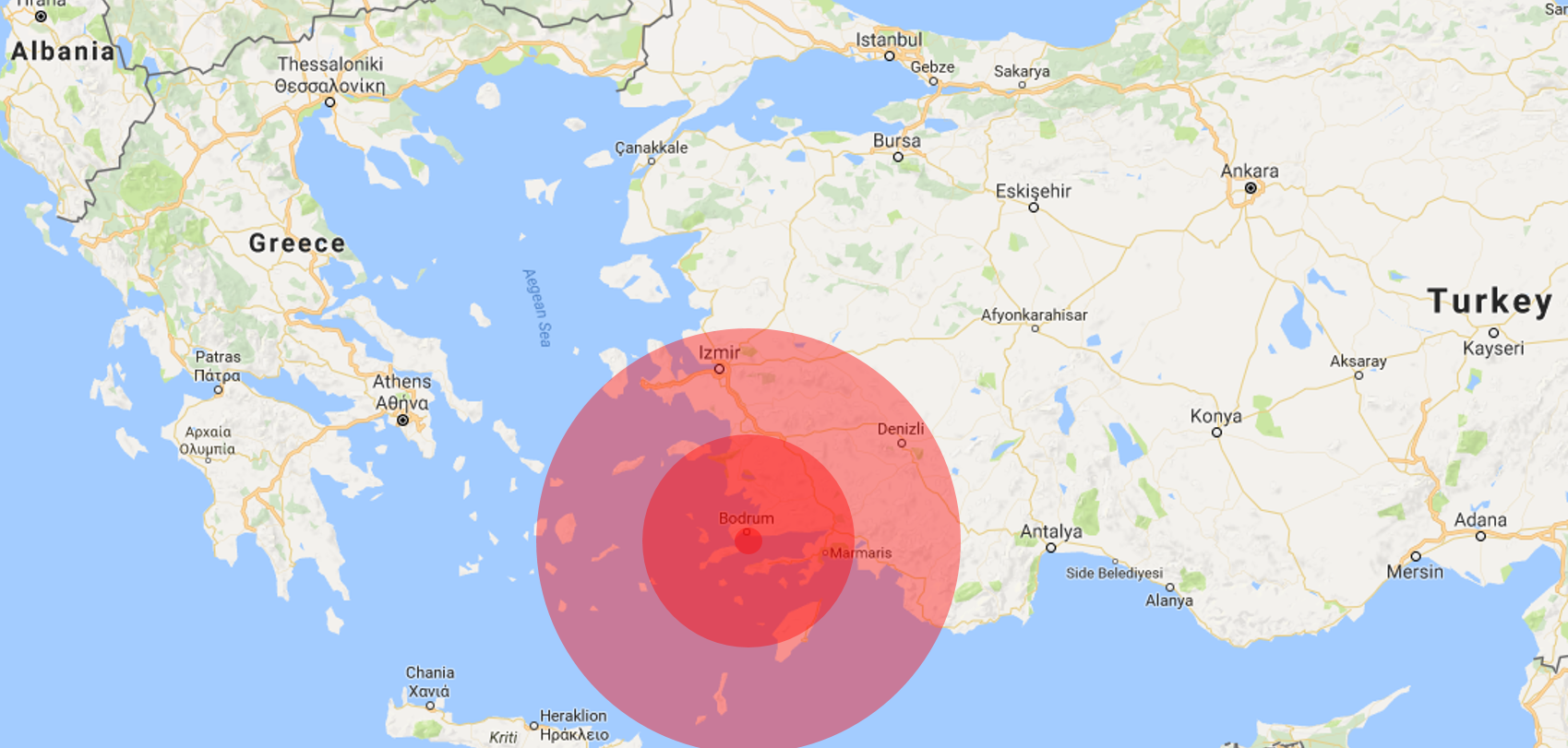 An earthquake reaching a magnitude of 6.7 on the Richter Scale has hit the Aegean Sea between the Greek island of Kos and the Turkish resort of Bodrum. The earthquake, with its epicentre at a depth of about 10k according to the US Geological Survey, struck at 01:31 local time on Friday, and has reportedly killed two people and left hundreds of others injured.
Turkey's Disaster and Emergency Management Presidency has reported at least 20 aftershocks since the initial earthquake, and at least five of those registered over 4.0, with the largest reaching 4.6.
According to the US Geological Survey, a earthquake of this magnitude (6.0-6.9 on the Richter Scale, classed as strong) can cause damage to a moderate number of well-built structures in populated areas, but earthquake-resistant structures should survive with slight to moderate damage. Poorly designed structures could receive moderate to severe damage. There will be strong to violent shaking in epicentral area, and it can be felt in wider areas up to hundreds of kilometers from the epicentre.
The region is no stranger to these types of events with an earthquake registering 7.6 occurring near Izmit in the north-west of Turkey in August 1999 killing about 17,000 people, while in September of the same year an earthquake registering 6.0 struck near Athens killing 143 people. In October 2011, an earthquake registering 7.1 occurred in eastern Turkey, near the city of Van, which left about 600 people dead.
Wow - terrifying to wake up to massively shaking room at 6.7 #earthquake on #Kos - thank god no one hurt, just shaken
— Tom Riesack (@QuietConsultant) July 20, 2017
While ensuring that employee and stakeholder safety is paramount, organizations need to ensure they are prepared for such events, certainly those in regions where earthquakes are a distinct possibility. Earthquakes may not feature highly in the Business Continuity Institute's latest Horizon Scan Report, partly because they are very region specific, but there were still a quarter of business continuity and resilience professionals who expressed a concern about the possibility of their organization being disrupted by one.
Organizations must consider what would happen if they are affected by an earthquake, or any other type of disruption, what impact could that disruption have, could anything be done to prevent or reduce the risk, and how would they respond and recover. Furthermore they need to consider how they would communicate with their employees and stakeholders to ensure they are kept informed, and kept safe.
More on