Firestorm® and the BCI Partner on the 17th Edition of the Global BCM Compensation Study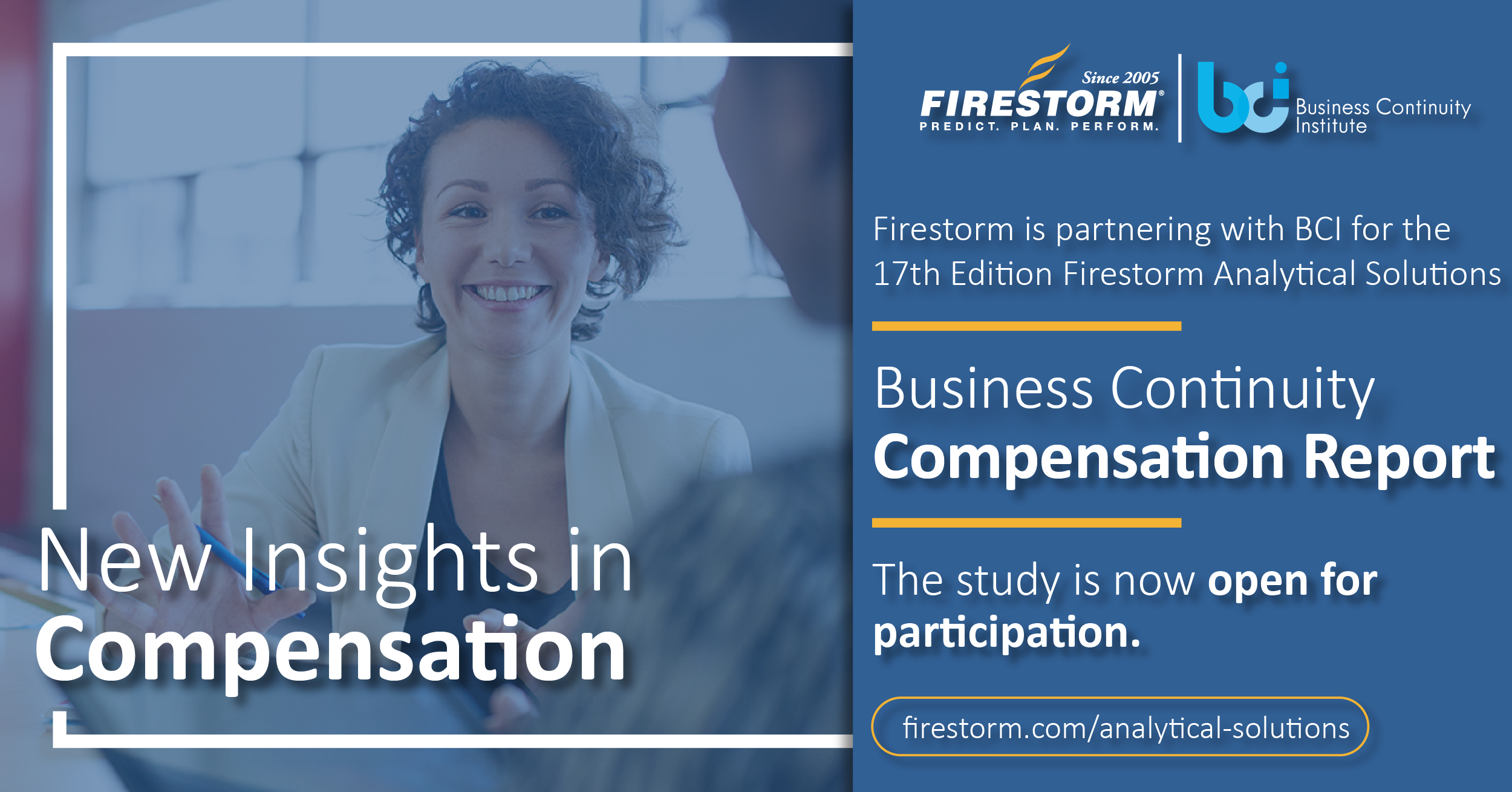 "Firestorm is pleased to team with BCI – the premier business continuity certification organization and the recognized global thought leader." Jim Satterfield Firestorm President/CEO.
The 17th annual study, aggregates data from participants from more than 30 countries. This analysis frames the factors that impact an individual's earning potential within the business continuity management profession. This world-renowned assessment covers years of experience, job level / responsibilities, gender, degree, certification, years of leadership / management expertise and much more. Respondents will receive a complimentary report assessing the key highlights and findings. Distribution of the study is scheduled for early in the first quarter 2019. As always, the study is completely confidential and contact information is never shared outside Firestorm Solutions or the Business Continuity Institute.
Cheyene Marling, EVP, Firestorm People Solutions and Program Analytics, said, "Since 2001, we have been fortunate to have received more than 25,000 responses from more than 50 countries that have supported over 35 industry leading surveys. Each of these reports created new insights and allowed for new trends to be identified in program maturity and professional compensation while supporting the larger continuity, IT, supply chain and risk management industries. Our compensation study was the first of our studies and for over 15 years we've been assisting the Business Continuity profession in benchmarking compensations to assist them in retaining and attracting the most skilled talent. We're thrilled to be partnering with the BCI for our 17th edition of this very valuable study."
'The BCI is pleased to partner with Firestorm Solutions on the Global BCM Compensation Study, this study is an excellent benchmarking tool for all those working in our profession.' David Thorp, Managing Director, BCI
For more information, please visit Firestorm.com.
More on