Fusion's Bill Bould on headlining BCI World 2020 and the move to Birmingham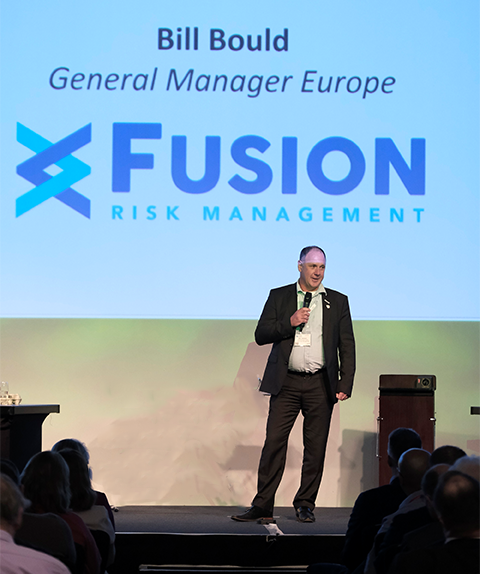 As planning continues for BCI World 2020, we sat down with Bill Bould from Fusion Risk Management – Headline Sponsor for BCI World 2020.
We met him at The International Conference Centre (The ICC), in Birmingham, the new home for BCI World in November 2020. "For me, personally, it's great because I live just down the road!" Bill says as we approach the exhibition floor. "But on a bigger scale, I think it's great to be moving to a venue which is a real exhibition space that benefits both exhibitors and visitors".
We sit down and we notice that there is something about The ICC, a sense of security and high quality service that is not easy to find these days. We are offered hot drinks with some nibbles and we dig in – even the food is amazing!
As we sip on our hot drinks, we start with the questions…
MP: So, can you tell me a bit more about the Fusion Risk Management platform?
Bill: Yes, sure. Fusion Risk Management is a leading industry provider of cloud-based software solutions for business continuity, risk management, IT disaster recovery, and crisis and incident management. Our products and services take organizations beyond legacy solutions and empowers them to make data-driven decisions with a comprehensive and flexible approach through one system.
MP: How long has Fusion been a BCI Corporate Partner and which benefits have you found most useful?
Bill: We have been a Corporate Partner since 2016 – four years already! We have partnered with the BCI by sponsoring several events in Europe – including BCI Netherlands & Belgium Conference and BCI World. We have also supported their Thought Leadership content and reports, which are a great contribution to the industry.
MP: What is the value of the Partnership for Fusion?
Bill: For us, the value of this partnership derives from being associated with the BCI from a brand awareness standpoint and the lead generation part, which is essential for businesses these days.
MP: Can you describe your previous experience exhibiting at BCI World?
Bill: BCI World has offered and continues to offer us the opportunity to get our brand into the European market space. Last year, we had a good footfall across the exhibition floor and our stand; and certainly, we enjoy meeting a lot of customers and professionals from other organizations!
It also offers us a chance to network with business continuity management, IT disaster recovery, crisis and incident practitioners and see our customers that come from all over the world to attend BCI World.
MP: So, why the decision to become the headline sponsors for BCI World 2020?
Bill: The decision to take the headline sponsorship was really to cement our presence in the European market and beyond. Fusion is headquartered in the US, but 2020 is the year where we want to expand that brand presence and market opportunity throughout Europe.
We want to increase our brand visibility, but we also want to show the European market that we are here to stay and, you know, we are looking to expand in this market from a small start.
MP: What do you think of the decision to move the conference to Birmingham?
Bill: I think that there is a risk involved because obviously moving people out of London is always a challenge! But it will open up the exhibition to more of the UK. Birmingham is a great central hub for all transportation – by rail, road and air. I'm certainly looking forward to it and I think it's an exciting opportunity.
MP: What are the benefits of exhibiting at an event such as BCI World for an organization like Fusion?
Bill: It's a chance for us to network with a number of people in the industry, it's also an opportunity for us to connect with customers who attend BCI World throughout Europe and a chance to meet potential new customers.
MP: Will you be running a seminar slot?
Bill: Yes, we will be running a seminar slot at BCI World, it will be a great opportunity for people to come along and see the Fusion framework in action.
MP: Lastly, what would you recommend to business continuity and resilience professionals that are looking to visit the exhibition or attend the conference?
Bill: I would certainly recommend staying over the two days rather than trying to do everything in a day. The exhibition is going to be big with lots of opportunities to meet a lot of vendors and to enjoy the sites of Birmingham and the surrounding areas. So, make most of the trip and make the most of coming to see Fusion at our stand in the centre of the exhibition floor.
Click on the button below to find out more about exhibiting at BCI World 2020.
More on
About the author

Digital Marketing Manager , The BCI