GDPR: Good for customers, good for business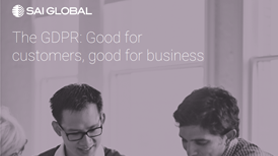 A message from BCAW 2018 sponsor SAI Global
The GDPR comes into effect in May 2018. Businesses that approach the GDPR as a business opportunity to bolster their cybersecurity efforts and Business continuity plans are likely to prosper. Those who see it as simply another burdensome piece of privacy or digital security legislation, risk falling behind their competitors.
The GDPR is a much-anticipated regulatory change that aims to standardise data privacy laws across. Organisations in breach of the GDPR can be fined up to 4% of annual global turnover or revenue (or €20 million, whichever is greater). All breaches must be reported to the supervisory authority within 72 hours.
No company can be 100% protected from a data breach, but they can significantly reduce any related fines or prosecutions by demonstrating that they have a robust process in place to protect their data.
Over half of data breaches occur as a result of human error or theft so proving your staff are trained on the GDPR and data privacy regulations can protect your business from large fines. Technology solutions should be implemented to give visibility of risks and to automate the data processing activities and reporting to the authorities.
Discover more about GDPR and the controls you can implement to protect your business in this eBook from SAI Global.
Part of Business Continuity Awareness Week 2018