George Egg spills the beans on creative thinking at BCI World 2019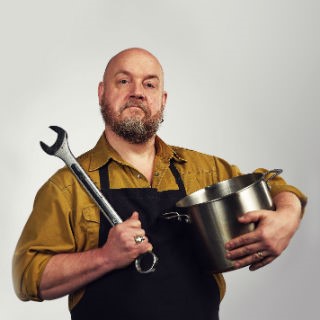 George Egg is a comedian who cooks on stage using unexpected equipment and unconventional methods. In 2015, his show 'Anarchist Cook' - a comical guide on how-to-cook-in-a-hotel-room - was a total sell out and won him the Spirit of The Fringe Award. He then went on tour for two years across Europe and in the UK, including two runs at the Soho Theatre in London.
We are pleased to announce the latest addition to the BCI World 2019 programme, comedian George Egg has joined our line-up of keynotes and will feature in our closing session of the conference on Wednesday 6th November.
Between 2017 and 2019, George was involved in different projects including two more shows: 'DIY Chef'- where this time he cooked in a shed using power tools - and 'Movable Feast' – a guide to cooking with cars, on trains and in planes. He appeared on Channel 4's 'Bake Off: An Extra Slice', ITV's 'This Morning', BBC Radio 4's 'Loose Ends' and he has also presented an episode of BBC Radio 4's 'The Food Programme'. He has also been tour support for Lee Mack, Micky Flanagan and Jack Dee.
For this year's BCI World, we wanted something out of the ordinary that could inspire our delegates beyond their knowledge and experience.
George's 'absurd' comedy and unconventional ways of cooking will inspire you to think outside the box and encourage you to challenge your problem-solving skills, propelling them to another level. Think about it, if you can manage to cook an egg in a hotel room, is there any problem that you can't solve?
Join George for this exciting and interactive session on creative thinking that will motivate you and stimulate you to find alternative ways around problems, will make you laugh…and probably hungry!
For more information about BCI World or book your ticket click on the button below.
Comments from the press…
"a hilarious show, with surprisingly good food" – The Times
"it is refreshing to encounter a performer who really is unique" – The Telegraph
"a culinary Bill Bailey, with chopping boards instead of keyboards. It is a multi-sensory delight to spend an hour with him" – The Scotsman
"There is a mischievousness about Egg's humour that is deeply lovable" - The Guardian (Grace Dent)
"brilliantly funny" – The Observer (Jay Rayner)
"a genius… he is the friendly face of anarchy, the anarchic face of food and the foodie face of comedy" – Scotland on Sunday
"my find of The Fringe" – The Independent
"this is a triumph of out-of-the-box thinking – and tastes lovely too" - Metro
More on