GPG Project Update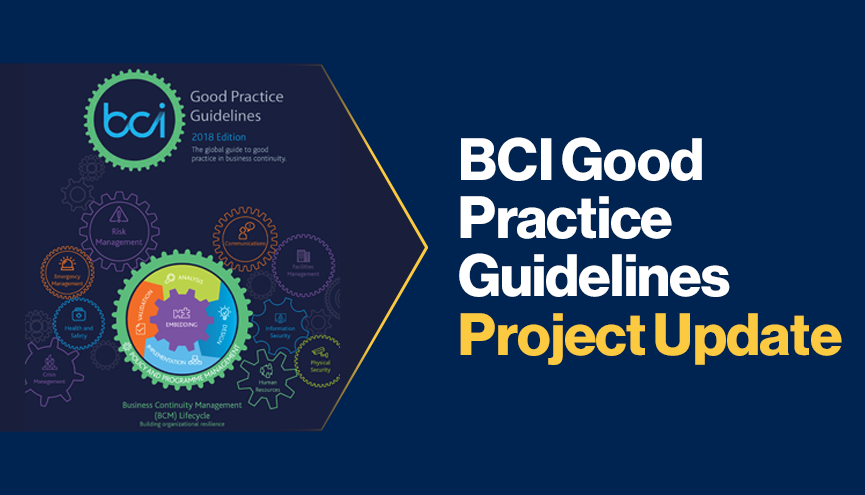 As many of you are aware, the BCI is currently undergoing a major project to update the BCI Good Practice Guidelines. Here is a summary of what has been done so far and what to expect moving forwards.
The project started in September 2021 when BCI members and other stakeholders were invited to contribute their ideas and thoughts on the update. BCI members were also invited to volunteer to be a part of the project for the following roles:
Technical Advisory Group (TAG) – A group of 8 members to advise BCI on the Technical Scope of this project and the final Technical Content of GPG 2023. Of these 8 members one is the Group Leader, one is the Editor, and the other six each lead a Working Group.
Working Groups (WGs) – There are 6 Working Groups to cover the 6 Professional Practices. Each group is made of 4 members and 1 group leader from the TAG. Working Groups are responsible for composing the Technical Content as per the scope, which will then be reviewed further.
In the last quarter of 2021, the TAG met weekly to discuss the scope of GPG 2023. They have considered changes in industry philosophy and methodology, including ISO standards and technical specifications and how the GPG can align more closely to these published international standards, reflect the current climate, better express the practical ways by which the Professional Practices can be implemented and potentially influence global thinking. The final Technical Scope for GPG 2023 submitted by the TAG has now been reviewed and signed off by the BCI Board.
The Working Groups will now commence work with their TAG Leaders to compose the content for their allocated PP areas and as per the approved Technical Scope. The content produced by the Working Groups will be reviewed by the TAG and BCI Board before receiving final sign-off.
Once all content is confirmed, the Editor and an appointed Technical Writer will bring it all together and finally it will go to design.
The GPG 2023 will be launched in early 2023. The updated CBCI Course & Exam and other course updates will follow shortly after.
The BCI would like to thank all members and stakeholders who contributed their thoughts and ideas, and all those who applied to volunteer for the project.
The BCI would especially like to thank the successful applicants who are now part of either the TAG or one of the WGs for offering their valuable time.
BCI Technical Advisory Group Leader, Katherine Whitaker MBCI, commented ''It has been a privilege to be part of the GPG 2023 project, to work alongside an amazing group of continuity professionals, and have the opportunity to shape the future of continuity moving forward"
TAG Members:
Eren Aslan MBCI
Katherine Whitaker MBCI
Lisa Jones MBCI
Michael Crooymans MBCI
Milena Maneva AMBCI
Ratna Pawan MBCI
Sanjiv Agarwala FBCI
Saul Midler Hon FBCI
Working Group Members:
Affeiz Abdul Razak MBCI
Alessandro Caillat AFBCI
Charlie MacLean-Bristol FBCI
David Window MBCI
Dean Beaumont FBCI
Des O'Callaghan FBCI
Fiona Raymond-Cox FBCI
Gary Vogel MBCI
Gianna Detoni FBCI
Helen Lipscombe MBCI
Ilango Vasudevan Hon FBCI
Jeff Lewis MBCI
Keith Frederick FBCI
Kuniyuki Tashiro FBCI
Macarena Rodriguez MBCI
Margaret Millett Hon FBCI
Mark Hoffman MBCI
Matthias Rosenberg FBCI
Mohammed Issa Hammad AFBCI
Nashikta Angadh AMBCI
Nikolaos Loukeris MBCI
Paul Breed MBCI
Seshadri Srinivasan AFBCI
Shane McMahon MBCI
Yves Davila MBCI
More on