Great engagement with business leaders at the new BCI Horizon Report launch in Sydney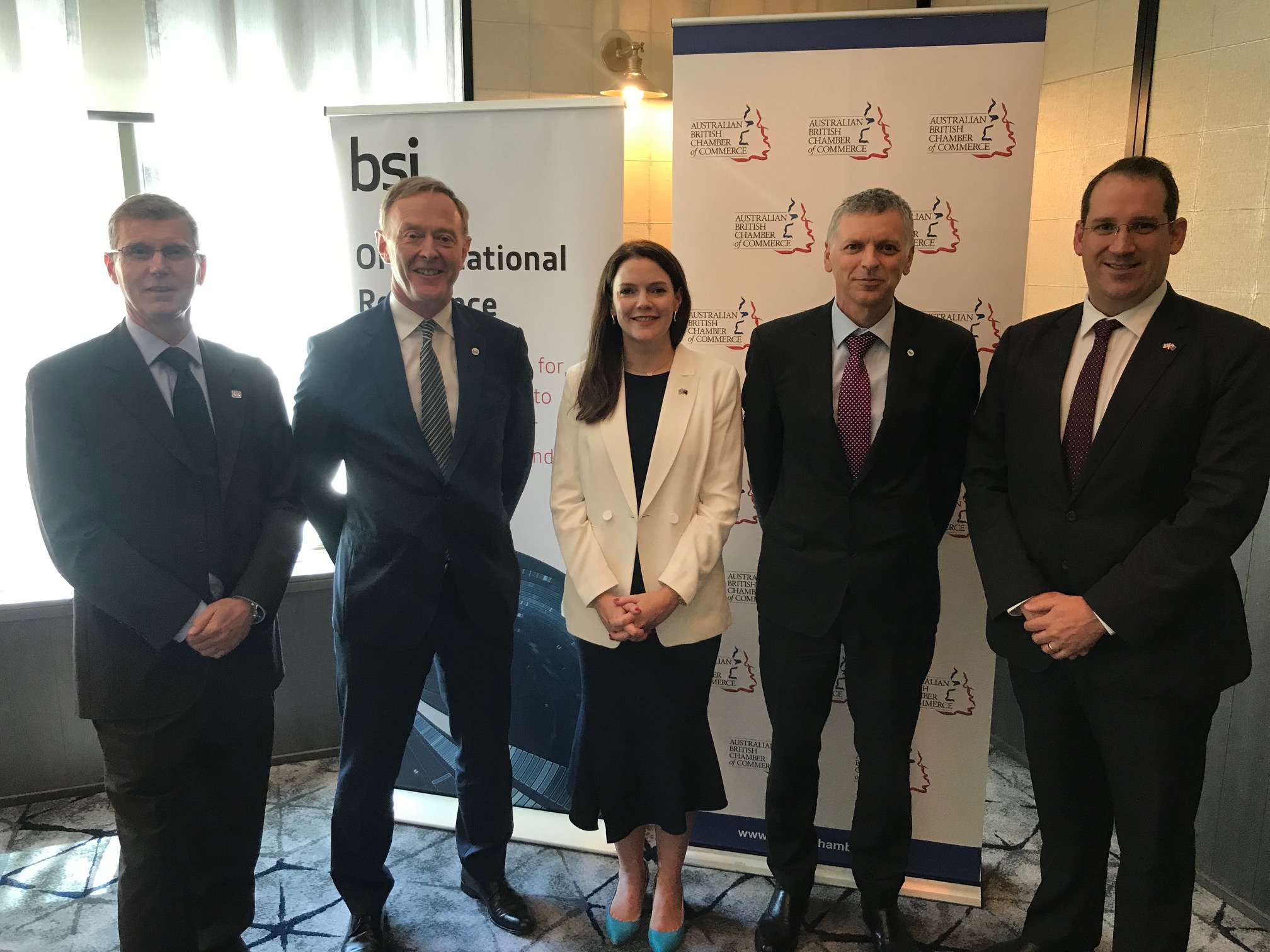 "Organizations that do not take all threats they face seriously, or develop plans to manage them, are exposing themselves to not only reputational loss but what can become quite severe financial costs."
Howard Kerr, Chief Executive of BSI was joined by Tim Janes, Chair of the BCI on Friday 15 February to launch the 2019 BCI Horizon Report and revealed what the biggest concerns are for organizations in 2019. Along with Marc Barnes, Australia and New Zealand Managing Director of BSI, Natalie Black, HM Trade Commissioner for Asia-Pacific of the UK Department for International Trade and David McCredie, CEO of Australian British Chamber of Commerce they raised awareness of this invaluable report and discussed the trends identified.
The launch included a round-table discussion with senior business leaders. Key discussion points included:
• 'Key skills' is a focus for organizations that want to avoid reputational incidents
• How standards and behaviours be linked to create the right culture within an organization
• Supply chain - are organizations monitoring this end to end? How can businesses manage risk if they don't know what this looks like?
BSI Chief Executive, Howard Kerr, said "It is easy for leaders to be kept awake at night by high-profile risks such as cyber-attacks, technology disruptions and IT outages. But they must not ignore the smaller, more frequent risks that steadily erode the bottom line."
"Organizations that do not take all threats they face seriously, or develop plans to manage them, are exposing themselves to not only reputational loss but what can become quite severe financial costs."
Tim Janes, Chair of the BCI, commented "For continuity and resilience practitioners the 2019 BCI Horizon Scan report provides an invaluable information resource. The findings and analysis provide insights that can inform and confirm planning assumptions and bring fresh ideas to benefit your exercise scenarios and continuity programme."
For more information on improving your organizations' business continuity practices, visit bsigroup.com/en-au or email info.aus@bsigroup.com
Click the button below to download the BCI Horizon Scan 2019 report.
More on