HR in Crisis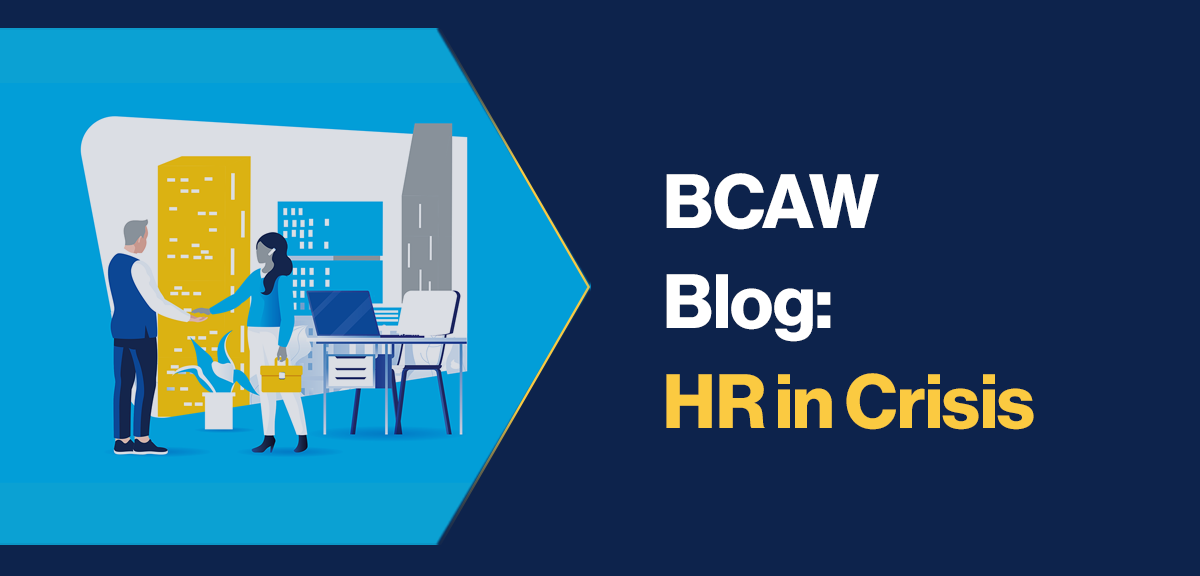 Maria… Irma… Dorian… Wuhan… What are the first thoughts that come to your mind? What have you done differently since then? How does Human Resources (HR) Management fit into your Crisis and Business Continuity Plans?
A crisis is defined as an event, situation or decision that results in a total or partial disruption of key business and operational processes due to harm to people, environment, assets or reputation. A crisis is hardly ever a totally unpredictable event. If we are proactive in our evaluation of risk and planning, then we will be better prepared. HR and Safety Professionals must collaborate and play a critical role in keeping our people safe.
I want to stress… In a disaster whether natural or man-made, the role of HR professionals is critical. Unexpected events are now everyday organizational realities. In a crisis, the impact on people is magnified for the persons affected and responders. Our role is getting the organisation from "business unusual" back to "business as usual". In 2019 study by Deloitte, 51% of companies say they do not have plans in place for probable crisis scenarios.
So, here comes the loaded question… if your organisation is confronted with a crisis at this moment does your organisation have an effective strategy to increase the likelihood of successfully overcoming it? Too often, no more is expected of HR Professionals than provide transactional (administrative, record management), or expert (recruitment/training) support. Regrettably, some HR professionals may settle for not being "at the table" when decisions are made. In a crisis, more is required!
Central in an emergency or crisis response strategy is people and leadership. Good HR Management is the glue that keeps the organisation together! I want to share a few tips based on my experience:
Expand your circle of influence: Counsel and coach leaders up and down the organization— they need you, and you can help yourself by helping them.
Ensure you have a plan that clearly and adequately defines the HR responsibilities before, during and after an event. Then…translate that plan into decisive action when needed
When conditions call for immediate action, welcome discomfort. Last, week I witnessed a HR profession hesitate to purchase hand sanitiser for frontline staff when it was in very short supply during peak of the Novel Coronavirus (COVID-19) pandemic because approval was needed for the process. Be assertive, make urgent decisions and lead. Own your mandate and lead when it matters most.
Do your policies consider crisis situations?

Travel restrictions during a pandemic like the Novel Coronavirus (COVID-19)
Paid leave during the recovery stage after an event
Transfer of leave among employees to support each other

Have you considered the psychological impact of the event? Does your Employee Assistance Programme address the possible needs of first responders and other affected persons?
Finally, and most importantly; communicate, get buy-in, …

Review and test your plans periodically,
Maintain professional and transparent relationships with management, employees and other stakeholders.

A successful HR Strategy considers Hearts and Minds (empathy and logic)

This approach allows us to work together harmoniously to achieve the strategic objectives of the business
These ingredients are needed to create a culture of care and resilience in your workplaces
Our personnel are not just human resources. They are people with lives and families. Planning for an event is not only about the business getting back to operation. Planning must also consider and address the vulnerabilities of the personnel. In emergencies or otherwise, if we treat our people as just human resources and not human beings then … HR is in crisis!!! Remember … People make the difference real!
More on