Hurricane awareness and 2018 outlook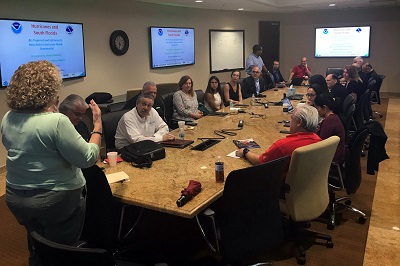 On the 26th June members of BCI and other organizations attended a singular event pursuant to hurricane awareness and current outlook. The meeting was hosted by Southern Glazer's Wine and Spirits office in Miramar, Florida. Our speaker was Robert Molleda, Warning Coordination Meteorologist from the National Weather Service. Robert provided the audience with his latest forecast for the 2018 hurricane season, a topic of vital interest to those living in Florida. Those living in Florida remember last hurricane season's severe devastation to numerous Caribbean islands, Puerto Rico, Florida, and Texas. Some of those locations are still under repair, extending into this hurricane season with on-going restoration. His forecast guided attendees to fine tune their hurricane plans as we brace for this hurricane season.
The presentation slides from the event can be viewed at the bottom of this page.

About the author

Director of Business Continuity
Bob Alsan, Director of Business Continuity with Ultimate Software, has 23 years of experience developing and implementing global Business Continuity and Disaster Recovery Plans. He is certified in Business Continuity and Project Management. His professional Information Technology and Business Continuity career includes working for Fortune 100 and Big 4 Accounting firms based in London, Istanbul, Kiev, Bahrain, New York, Boston, North Carolina, South Carolina and Florida. Bob participates in RIMS, PMI, BRCCI, BCI, ANSI, ISO, DRI, ITIL, and ASIS memberships, activities, and courses.