Launch of BCI New Zealand South Island forum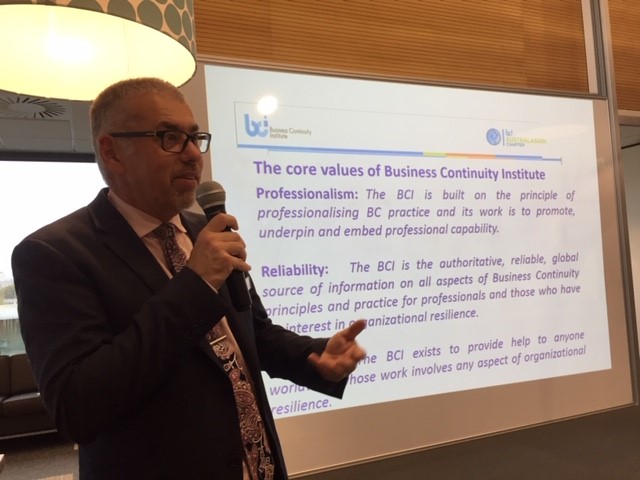 28th November 2018 saw the inauguration of the 3rd New Zealand forum (South Island) amidst a good gathering of BC professionals.
Those who were present, every one of them were very enthusiastic about coming together, as a 'community of practice' to learn, grow, develop, share and contribute to the society and to organisations in the region. After welcoming the guests, and briefly touching upon the core values of the BCI by Nalin Wijetilleke, the Chair of the BCI Australasia Chapter, Glen Redstall, highlighted the essential ingredients for resilient organisations. The keynote was delivered by Dr Erica Seville and was very inspiring and engaging. Looking into the next few years to come, on the theme, 'Looking forward – the times they are changing', she discussed or 'predicted' the key 5 areas that would be visible in the near future that managers of resilience have to take a note of.
The Hon FBCI which was conferred on Dr Erica at BCI World in November, was re-enacted with the plaque being given away to her by the Chapter President. The final item of the event was to elect the Forum Leadership team. The names of Brad Law as President, Donna Bridgman as the Forum Secretary and Rob Reuter as the Forum Committee member were approved.
The newly elected South Island Forum Lead Brad Law and BCI Wellington Forum Lead David Thompson also spoke briefly. The meeting ended with the vote of thanks to those who participated the event, GHD Limited for hosting the event and providing refreshments & drinks and to Donna Bridgman for meticulously organising the entire event. Those attended joined in the networking session, that followed.