Letter from the BCI USA Chapter President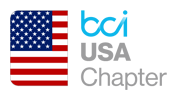 Greetings BCI USA Chapter members!
We have been on an incredible journey this past year personally, professionally and globally. We have learned much about ourselves, our organizations and our communities. We have been brought to the forefront whether we were ready or not … and … we have delivered! While this resilience journey is a long game, it is well worth the investment we have each made in ourselves and in our organizations. It is with this lens that your BCI USA Chapter Board met in early October to set our course for the coming chapter year.
Our strategy for 2020-2021 and beyond is focused on bringing value to you, our members. Everything that we have set before us has the number one priority to add value to your BCI journey. We have aligned our efforts into five key collaboration streams, each lead by a chapter board member who in turn will need your help to deliver value back to all our members. Each of the streams tie directly back to the BCI global strategy and mission. The collaboration streams are:
Community
Coordinators: Malcolm Reid and Roger Stearns
Focus: Building and investing in partnerships with other resilience organizations and initiatives to grow our USA resilience community
Philanthropy
Coordinator: Frank Perlmutter
Focus: : Provide BCI expertise, time, and resources to non-profit organizations that support the resilience of our communities. Give back to the broader community via resilience related initiatives such as finding homes for displaced pets from natural disasters, assisting communities and non-profits with continuity and resilience planning initiatives … bottom line: give back to those in need around us.
Diversity & Inclusion
Coordinator: Lisa Jones
Focus: Provide opportunities for networking and building a community of different backgrounds, voices, and experiences. Ensure that we are hearing those who speak up.
Content & Communication
Coordinator: Hiram Barbosa
Focus: Create and deliver relevant content and consistent communications to members via multiple channels – BCI website, social media, webinars, events, etc.
Leadership & Organizational Development
Coordinators: Katherine Whitaker and John Jackson
Focus: Build the knowledge, skills, and abilities of the BCI USA chapter community by helping them develop and achieve their potential, so that the organizations they work for can succeed and grow.
Each of these collaboration streams can only be achieved with your help. The coordinators are tasked with defining the mission/vision for their stream and their associated deliverables. To ensure that these collaboration streams reflect what you need, WE NEED YOU to connect with the coordinators to help shape our collective future. We have made this easy for you to do – just click on the link with their names and send them an email to start the conversation.
Over the coming months, we will be sharing more information about each of these collaboration streams. But don't wait – step in now to be part of defining our future!
We also made some key administrative decisions for the business of running our chapter. We revised and approved our chapter bylaws to bring them in alignment with our current structure and the global BCI bylaws. Please contact me if you would like to receive a copy of our chapter bylaws (yes, they have a bit of legalese in them – it's a necessary thing!)
The second big decision we made was to dissolve our legal entity in the USA. In 2018, the global BCI board restructured the chapters and forums as part of setting the new global strategy. The aim was to remove as much administrative non-value-add work from the running of the chapters so that our volunteers can focus on bringing value to our members. The central office also has made great strides in improving their back office administrative support to enable this all to work well across the globe. We, the USA chapter board, intentionally took our time to weigh this decision carefully to ensure our continued success. At the end of the day, we are saving money, streamlining our financial processes, and putting all our efforts in to delivering value to you, our members. If you have any questions about this decision, please contact me to discuss.
I know this has been a long letter – and there is so much more I could share! We are looking at what we can do to bring BCI local networking events to where you are … once Covid restrictions allow. We have our first ever Virtual BCI World Conference THIS WEEK! Have you registered yet? It is affordable and worth every penny! I gained so much from attending BCI World last year. And this year's agenda is even better! Go to BCI Virtual World 2020 to learn more and register … you will be glad you did … it's only $160 to register.
Watch this space for more information to come. We, your BCI USA chapter board, are here to serve you. We want to enrich your BCI experience and help you to grow and your organizations to succeed. Thank you for putting your trust in us by electing us to represent you. Please join me in welcoming Lisa Jones, J Frank Lady, and John Jackson back to the board and welcoming first-time board member, Michael Hayes.
I am honored to serve as your chapter president. I look forward to hearing from you. I need your insights to help guide and direct our path along our resilience journey.
Stay safe and thank you!

Alice Kaltenmark, FBCI, MBCP
BCI USA Chapter President

About the author

Service Continuity Manager
Alice has over 39 years' experience in IT with 37+ years at LexisNexis / Reed Elsevier (RELX Group). Alice began her career as a software engineer and quickly advanced into management. Since beginning her management career in 1989, she has led many organizations spanning the spectrum from software development, release management, development support, daily operations, technology introduction, and culminating in her current role in Global IT Service Continuity Management for RELX Technology Services. Alice holds the Member Business Continuity Institute (MBCI) and Master Business Continuity Professional (MBCP) certifications with over 20 years of experience in business/service continuity management. Alice currently serves as a member of the BCI USA chapter board and holds the office of President for the chapter. Alice is committed to the growth of the continuity profession and also serves as past president and treasurer, Continuity Professionals of Ohio (CPO). Alice enjoys sharing her expertise with other professionals and presents at local, regional and national professional conferences and summits.