Meet BCI Industry Personality 2017: Gianna Detoni FBCI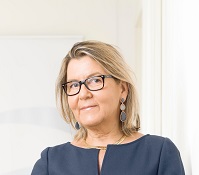 The winner of the 2017 Industry Personality award was Gianna Detoni FBCI.
Gianna has a wealth of experience across multiple sectors, with her career starting more than 40 years ago in the banking industry, leading business operations. Her career progressed within the organization and her final years in the position were spent working as Resiliency Manager for EMEA branches.
In 2009, Gianna founded PANTA RAY; a business service consultancy, and continued to offer advice relating to business continuity and resilience, with the help of her colleagues.
Her additional qualifications as Professor of Business Continuity and Crisis Management at the University of Verona, and Enterprise Risk Management at the University of Tor Vergata further demonstrate her knowledge and expertise in the business continuity and resilience sector. She is also a Fellow of the Business Continuity Institute and an approved Training Partner.
Gianna is a respected speaker around the resilience topic, as well as an author of multiple articles relating to business continuity and crisis management.
Since 2014 and her appointment as BCI Italy Forum Leader, Gianna has made huge steps within the industry. She is not only dedicated and determined to improve good practice throughout Italy, but acts as an active thought leader, raising awareness of the topic. Her passion for business continuity and never-ending drive to improve organizational resilience on the whole led to her nomination in the European awards and ultimately, her well deserved title of Industry Personality at the BCI Global Awards.
"Being the winner of the BCI Global Industry Personality Award was a great experience and a very rewarding moment. I appreciated the recognition of all my efforts in enhancing the continuity and resilience culture. However, I do not feel that this great award is the final accomplishment, on the contrary it is definitely a starting point. With this award, I have been invited to important international conferences and I would recommend all business continuity professionals who are as passionate as me to aspire to enter the BCI awards." Gianna Detoni FBCI
Could you be the winner of the 2018 BCI Global Awards? Submit your entry for your BCI Regional Awards 2018 for your chance to win and be automatically entered for the BCI Global Awards.
Visit the BCI website to see when your regional awards open and for more information on how to enter.
To be considered for the Industry Personality Award, judges look for evidence of exceptional all-round skills and broad experience in the continuity and resilience space. The nominees for this category will have in-depth knowledge of the discipline and will be able to show how they have helped improve organizational resilience for more clients.
More on