Message from the BCI Chair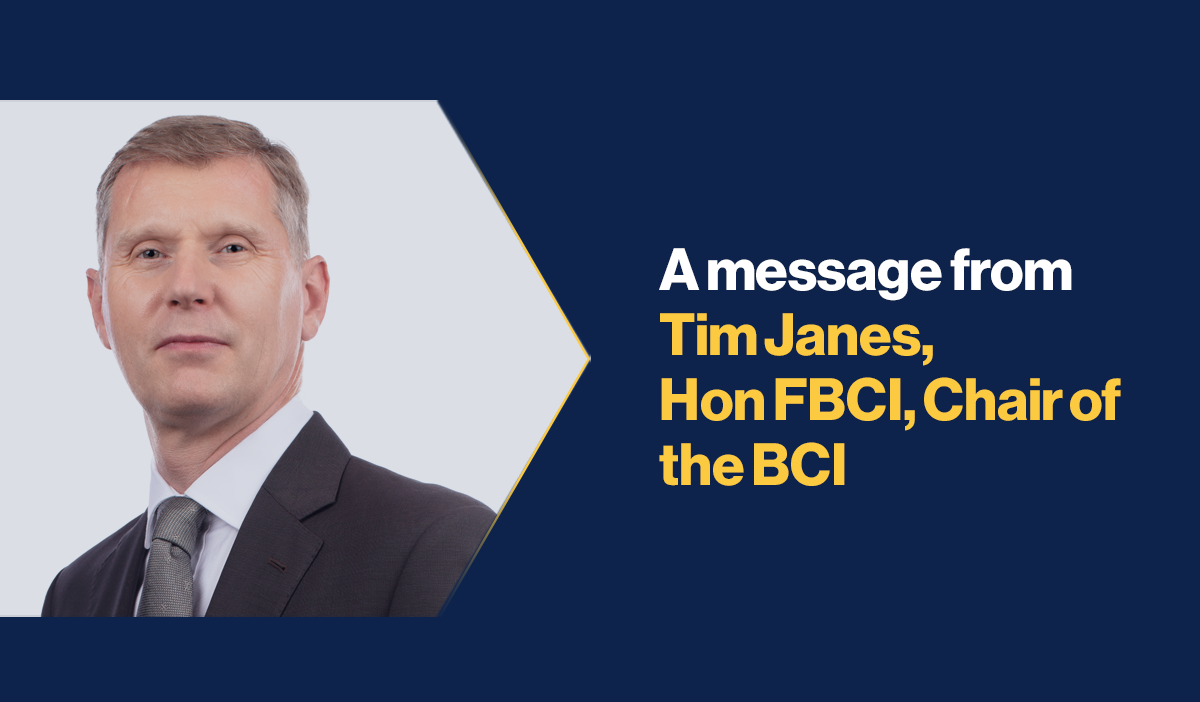 The COVID-19 pandemic has created an unprecedented crisis for individuals, organisations and countries. In these challenging times, we know that BCI members around the world are working diligently to protect and support their colleagues and clients in response to the chaos inflicted on us by the COVID-19 virus.

Like every organisation, the BCI has been impacted by the disruption, but the team at Central Office supported by the BCI Board remain focused on maintaining our services to you all. We must also ensure the BCI continues to fulfil its leadership role in our industry by helping organisations and communities to remain resilient in the face of this uniquely demanding and complex pandemic. As you would expect, the BCI has activated its own Business Continuity Plan.

We have dispersed our workforce and verified that our systems are configured to support sustained remote working. The BCI's Customer Contact Centre remains available. We are confident that we can maintain our services and to continue to function in this mode for the duration.

In the spirit of resilience, we are also adapting how we work and deliver many of the BCI's familiar services and products. I would like to share with you a few examples of how the BCI will customise some of its activities in response to these extraordinary circumstances.
We are working with our partners to produce current and impartial research for members via the BCI's new Coronavirus Hub.
Next week we begin a series of webinars to give continuity and resilience professionals the opportunity to discuss pandemic response issues, ideas and solutions in a secure and confidential environment.
We will follow each webinar, with a dedicated WhatsApp group which can carry on the discussion throughout the pandemic. We anticipate that WhatsApp groups will be an important route for our continuing engagement with members during these unconventional times.
We have launched the first of our fortnightly Coronavirus Preparedness Survey. On alternate Fridays we will publish the results in an evolving update to show how organizations are responding and adapting to the pandemic.
The BCI's research activity will focus on COVID-19 for the next three months. The Cyber Resilience Report will be replaced with a pandemic-related report.
We are building an archive of the measures adopted by organizations around the world to ensure business continuity throughout the pandemic which will serve as a historic reference point in the future.
We have arranged for online access to BCI training courses to be made available via our international network of Licensed Training Partners.
While it has been necessary to cancel some planned physical events including the Australia Summit and the Belgium & Netherlands Conference, they will be recreated as online BCI events. We will keep you informed of the content and structure of these as soon as we can. Chapter events must also be reviewed in line with local guidelines and many may be cancelled. Where possible these too will be rescheduled as online events.
This is just the start of the BCI's response to the COVID-19 pandemic, and we will provide further member updates in coming weeks as the BCI's pandemic response progresses.

The COVID-19 pandemic represents a global crisis that impacts every country, organisation, and household in a manner that is unprecedented outside of wartime. These events are perhaps the greatest collective challenge our profession has faced in the last 25 years, but I have full confidence that we are up to the task.
The Central Office Team and Board will be working as hard as possible to ensure the BCI continues to provide members with effective support, practical information and beneficial engagement, as we come together to help our organisations, friends and families remain resilient through these difficult times.

Take care of yourselves and keep well.

Tim Janes
Hon FBCI, Chair of the BCI
About the author

Chair of the BCI
Summary Bio available here - www.thebci.org/news/tim-janes-hon-fbci-appointed-as-new-chair-of-the-bci.html