Netherlands forum meeting - December 2016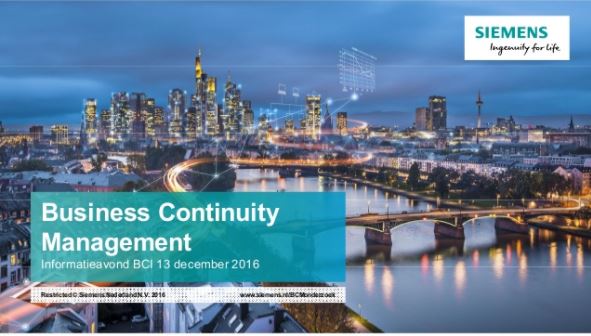 On Tuesday December 13th, Siemens hosted the last BCI NL Forum event of 2016 at their location in Zoetermeer. The attendees were invited to visit the Siemens Customer Service Center before enjoying nice drinks, great food and good company.
After dinner, the evening kicked off with NL Forum Leader Michael Crooymans reviewing 2016 informing the audience of the plans of the BCI Be/Nl Chapter for 2017. Apart from continuing to add value for our members, our ambition is to further establish the BCI as THE professional platform in our countries where BCM professionals share their knowledge and experience. To be successful as a chapter, we need continuous effort in areas such as marketing, communication, training and business development. Michael issued an open invitation to become a volunteer and help the chapter grow and thrive. Please contact him when if you're interested . In 2017 the Forum events will be continued, but also smaller meetings dedicated to specific subjects will be organized. Last but not least: there is still room for new working groups.
In 2012 and 2014 Siemens Netherlands published reports regarding the state of and trends in business continuity in the Netherlands. Johan de Wit, Solution Manager Enterprise Security at Siemens Nederland presented a sneak preview of the third research report. As he asked us not to steal his scoop, the main conclusions must remain a secret until the report comes out in in a few weeks – see www.siemens.nl/BCMonderzoek . But it will be no surprise that cyber security, supply chain dependencies and terrorism were subjects he dwelled on. Johan also pointed out that the continuity of Industrial Control Systems requires more attention from organizations as their importance is often overlooked and they have other challenges than IT.
The next speaker was Dora Horjus, Managing director at COT Institute for Safety and Crisis Management. She also presented the result of a research study: Crisis Management in the Netherlands (2015). After introducing us to the world of crisis management and the importance of it for organizational resilience, she unveiled some interesting facts. It is clear that organisations are ever more becoming dependent on ICT and that crisis management is generally seen as a necessary capability for staying in (some form of) control in unstable situations. Nevertheless, most companies still have a long way to go in embedding crisis management in DNA of their organization and the implementations are often far from mature. Although the definition of BCM that was used in the presentation differs from the one that BCI members use, the presentation made it all too clear that properly implemented crisis management is a valuable asset in this world of ever changing threats. She agreed that organisations who have BCM implemented usually respond better to a crisis.
A question from the audience about the sometimes disturbing influence of social media triggered an identical response from Dora and Johan: embrace it, use it and try to manage it!
After this the attendees were able to choose between a guided tour of the control room of the Customer Service Center, a presentation of its services portfolio and an introduction into virtual building techniques and data-analysis. All together it showed how big the role of remote servicing, monitoring and testing nowadays is, although we're often not aware of it.
Next time I get jammed when trying to park my bicycle in one of the guarded parks at the train station I know I'm safe hands: the guys in Zoetermeer are looking after me.
The evening ended with an opportunity for sharing experiences, networking and toasting to another successful year for the Chapter. I wish you a continuous 2017
Slides from the event can be viewed below.
More on