New BCI global board members elected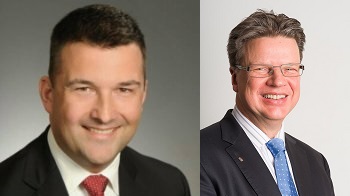 Following reforms made to the BCI governance arrangements last year the BCI member volunteer community have just elected 2 new members to the BCI Global Board.

The two people elected for a period of 2 years were Christopher Horne FBCI, BCI Canada Chapter President (above left) and Michael Crooymans MBCI (above right), leader of the BCI Netherlands forum.

On hearing the news of his election Michael said "I am thoroughly delighted and extremely honoured to be elected to the Board of the BCI. Being involved in our Forum, Chapter and until recently leading the GMC, I am pleased to continue serving the BCI and the industry and I am excited with the extra opportunities that this role will provide me to perform more effectively. I would like to thank those who have supported me and encouraged me take these steps over the last few years. In the Board I will help to ensure that BCM remains an important, exciting and recognised discipline within the resilience arena. Furthermore, building relationships and improving cooperation with other resilience disciplines is high on my agenda. This is all part of the current BCI strategy which I will help to implement, not just globally but with attention to the local situation."

Christopher said "My goals as a volunteer are always to contribute to promoting the value of the Business Continuity Institute (BCI) to our existing and potential members and to support the growth of the Institute, its principles and its role in the industry through collaboration. As a longtime member from Canada I am very honored for the opportunity to contribute to the global board and grateful for the support shown by the community of volunteers that voted for me".

BCI Chairman James McAlister welcomed the election of Christopher and Michael and said "Both Christopher and Michael have a strong track record of contributing to the development of the BCI in their areas and will both be good additions to the global BCI board at this exciting time for the industry and the institute. There are many challenges ahead for the BCI in the coming years but with strong people like this the BCI is well placed to take advantages of the opportunities that exist to achieve our vision of a world where all organizations, communities and societies become more resilient."

Membership of the BCI board is open to active volunteer Voting Members. If you would like to become active with the institute a list of opportunities are available here.