Operation Black Swan - are you ready for a no-deal Brexit?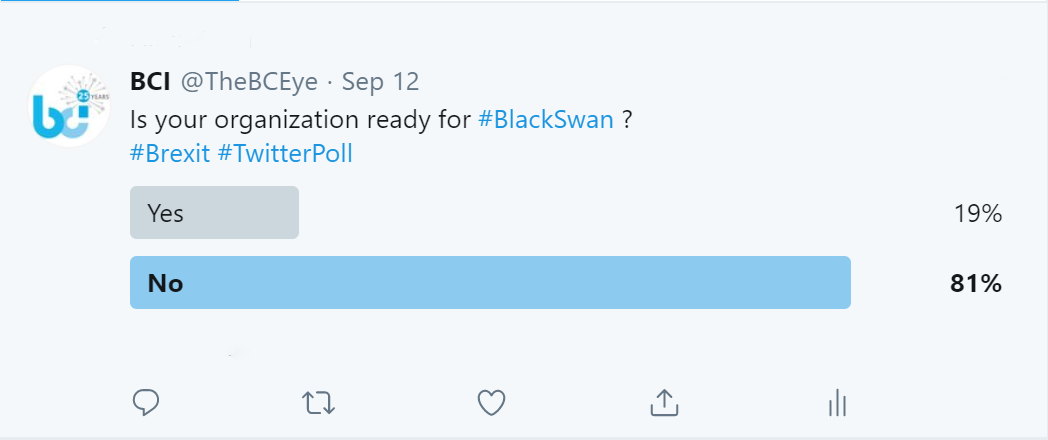 A year ago, the BCI undertook a survey of its membership in order to determine how prepared organizations were for Brexit. At the time, figures were startlingly low: just 47.5% felt they were "prepared" or "very well prepared" for a soft Brexit and 27.9% for a hard Brexit. As the Government undertook measures to try to ensure global organizations were more prepared by the mooted leave date of 31 March 2019, we saw a slight uplift in preparedness.
However, in a snap poll carried out by the BCI last week, just 19% of organizations indicated that they were "ready" for Brexit meaning that 4 out of 5 organizations felt underprepared. The research last year showed that the lack of certainty surrounding the final deal meant organizations were delaying making preparations, whilst others were stalled by simply not being able to get the information they needed in order to plan.
The current position of the UK Government means that organizations are now in a position of even greater confusion than they were six months ago, which has not been helped by the release of the Operation Yellowhammer.
Earlier this year, the BCI South East forum held a Brexit-specific workshop in Sandwich, Kent,where public sector officials and various organizations demonstrated how forward they were with their Brexit plans and explained the contingency preparations they had made – even if the worst case scenario came true.
Whilst the BCI maintains an impartial line when it comes to Brexit, we still advise to organizations to plan in advance. Planning can help an organization to make the transition to a post-Brexit world, but it can also provide it with a real competitive advantage against other organizations who may not have engaged in the same level of preparedness planning.
More on
About the author
Head of Thought Leadership (The BCI)
Rachael has twenty years' experience leading commercial research within organizations such as HSBC, BDO LLP, Marakon Associates, CBRE and BCMS. She has particular expertise in the technology & telecoms, retail, manufacturing and real estate sectors. Her research has been used in Parliament to help develop government industrial strategy and the BDO High Street Sales Tracker, which Rachael was instrumental in developing, is still the UK's primary barometer for tracking high street sales performance. She maintains a keen interest in competitive intelligence and investigative research techniques.