Platinum Sponsor, F24: BCI World Virtual connects BC experts from all over the world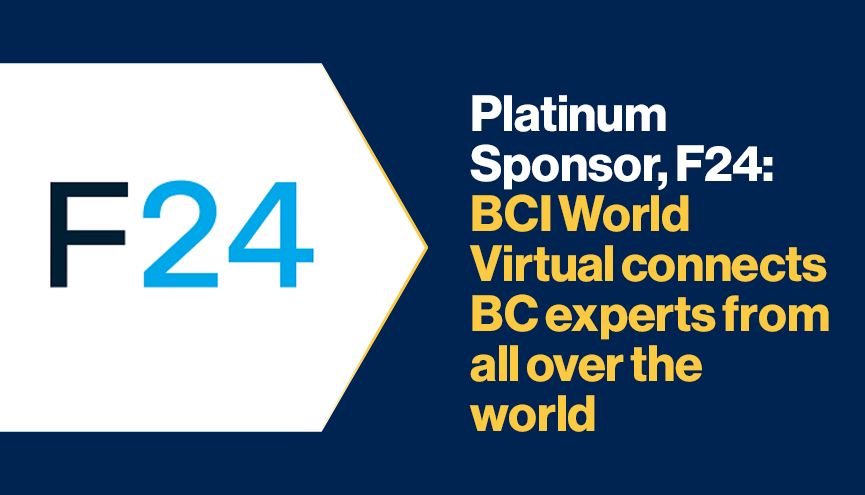 BCI World Virtual 2021 kicks-off next week and we had the pleasure to interview one of our Platinum Sponsors, F24.
How does BCI World Virtual Contribute to the BC Industry?
Organisations recognize that the BCI World Virtual event is a leading contributor for sharing the current developments and best practices for business continuity management.
The BCI World Virtual is an excellent event for Business Continuity (BC) & Resilience professionals & practitioners as well as a welcome platform for those just starting out in the industry. It provides basic knowledge about BC that is essential for organizations. The multitude of online interactive workshops and sessions with leading industry experts ensures that there is a transfer of valuable knowledge around BC for those just starting out their careers all the way over to the leading industry experts.
What will your virtual booth feature this year?
The F24 virtual booth at BCI World Virtual 2021 will have a field of SaaS experts in emergency notifications and crisis management, who will provide an insight into effective Emergency Notifications, Crisis Management and BC. We will also provide live product demonstrations for those wanting to have a brief sample of our solution offerings along with the perfect opportunity to discuss how organisations can become more effective in crisis leadership.
What do you think are the key learning points for companies during the COVID 19 pandemic?
There are many lessons learned from the pandemic, with the primary objective of keeping employees safe and healthy at the forefront. However, the greatest impact of the pandemic has been on supply chains - which is a stark reminder of the need to plan for the unexpected and sometimes the unthinkable. Planning for the unexpected is a basic good BC practice however, I don't think many will have had the vision to have been able to predict the entire impact that the pandemic has had on organizations around the world, still after 18 months new challenges are becoming apparent.
This highlights the need for organizations to be agile and flexible at times of disruption. Furthermore, internal, and external communications have been most challenged during this time, with new channels being adopted during this time thereby proving the relevance of technological solutions for efficient communications, collaboration and management.
It clearly highlights the importance of maintaining sustainable crisis management over a long duration, being proactive in emergency response and crisis management results in organizations that are effective crisis leaders and who will succeed in managing the multitude of challenges created by the pandemic.
Can you outline the factors which ensure companies are equipped and ready for potential for disasters?
If you keep an eye on the various risks and continuously monitor developments, you can take proactive measures to protect lives and assets when even the slightest change occurs. Just as meteorologists can predict tornadoes better thanks to the latest technologies and intelligent data analysis, smart Incident Management can reduce the impact of emergencies, crises, and disasters, in some instances preventing them altogether.
We know from experience that preparation is crucial to the successful management of a crisis. At first it is essential to prepare plans in case of crisis situations for general or specific scenarios. Thereby digital task management facilitates coordinated collaboration and the structured handling of tasks using facilities such as Action Cards. These are prepared checklists that are customized to the type and criticality of any potential incident.
In addition, practice sessions are an essential component of proactive crisis management. With scenario-based, regular exercises, employees can learn to react correctly to different situations.
All in all, crisis prevention, emergency planning, digital and structured training are important factors so that organizations can be truly prepared and act as crisis leaders
Why attend BCI World?
BCI World is one of the largest BC and resilience events in the world. The virtual event makes it possible to connect experts from all over the world. Especially with the availability of networking areas and group/individual chats, new contacts from around the globe can be established very quickly and long-standing relationships can be rekindled.
Find out more about BCI World Virtual 2021 - explore the programme and learn how you can network with professionals across the globe...
More on