Resilience Re-Wire - Chapter 1: Operational Resilience Consultation Papers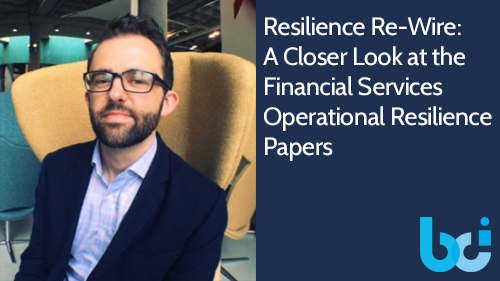 In this new "Resilience Re-Wire" series, BCI Global Board member Luke Bird, FBCI, shares his initial thoughts on the Financial Services Operational Resilience Papers published in December 2019.
Did you see the operational resilience papers that came out in December? The ones that were jointly released by the Bank of England (the Bank), Prudential Regulation Authority (PRA) and Financial Conduct Authority (FCA)? I felt pretty overwhelmed by the sheer amount of detail released (even having read the previous discussion paper).
I decided to take a good look and report back my interpretation to the BCI family in my regular no-nonsense approach. I know at the moment this is looking at UK financial services but I think other sectors are watching this space so it's good to take note.
I'll try to break this up into a few posts. Let's start with an overview of what actually came out…
The Overview:
December 2019: The BoE, PRA and FCA have published shared policy summary and co-ordinated consultation papers (CPs) on new requirements to strengthen operational resilience in the financial services sector.
The key documents include:
1) PRA - Draft Policy and Supervisory statements
2) PRA - Outsourcing and third-party risk management' - objective is to facilitate greater resilience and adoption of the cloud and new technologies
3) FCA - Building operational resilience: impact tolerances for important business services and feedback to discussion paper
4) BoE - Consultation Papers
Consultation Paper - Operational Resilience: Central Counterparties
Consultation Paper - Operational Resilience: Recognised Payment System Operators and Specified Service Providers
Consultation Paper - Operational Resilience: Central Securities Depositories
The consultations close on 3 April 2020. The regulators expect to publish final rules in the second half of 2020, with implementation in the second half of 2021.
This is over 300 pages of detail and if I'm honest browsing it even briefly was intimidating. As expected though, leading consultancies immediately jumped on to interpreting this small forest of new information on our behalf. I wanted to avoid their insight for a moment so I could try to digest what just landed and it's taken until now to get going.
I am sharing this primarily for two reasons:
Not everyone has the time, inclination and desire to read uber-dry content relating to new and upcoming regulations and I believe it's important to share and give an authentic take.
Selfishly this approach really helps me to digest and reinforce my understanding. It just helps it stick for me. It also means people may challenge my interpretation and help me to understand it even better!
Spoiler Alert: Some of the content is duplicated along the way so I tried to take out the key messages for me. The overall message I take is that I need to re-wire my continuity professional brain a little to take all this on board (hence the series title).
First up, the Bank of England Consultation Papers on Operational Resilience...
Stay tuned for Luke's next article soon!
More on
About the author

Vice President - Business Continuity and Disaster Recovery
Award-winning continuity & resilience professional working in financial services.
Global Board Director for the Business Continuity Institute.
Business Continuity Institute Scotland Chapter Committee Member.
*All opinions shared are mine and not those of the BCI board, which is a collective decision-making body.