Rising professionals in business continuity - Ewan Donald MBCI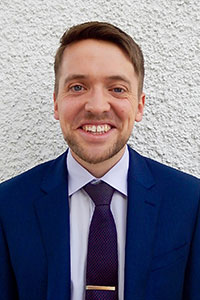 Name: Ewan Donald
Current role: Principal Consultant, PlanB Consulting
Time in the profession: 6.5 years

What led you to pursue a career in business continuity?

Chance, in all honesty! I left university with a degree in politics and without much of a clue about what I wanted to do. A graduate role in emergency response in the oil & gas industry was what got me hooked; I moved on to different positions in that area where I gained experience of responding to incidents, as well as in delivering training and exercises. Having seen how incidents were dealt with in that environment and that sector, I wanted to see how other industries and organisations approached the same issues and to learn more about recovery as well as the response. Three years ago, I began working for PlanB Consulting and I am now delivering consultancy, training and exercises in business continuity and crisis management to clients around the world.

What does business continuity mean to you?
For me, it's about having a clear, practical process - that staff understand - which make an organisation better prepared to respond to and recover from a disruptive incident. I believe that good business continuity should be simple. Some organisations have the most complex, detailed Business Impact Analysis, for example, spending endless hours maintaining and reviewing the information, some of which is never used or spoken of ever again and much of which the rest of the organisation does not understand. It sounds obvious, but the test for anything should be 'is this going to be truly useful before, during or after an incident?' if the answer is 'no', then that time and effort can be better used elsewhere in the process, for example in more frequent training and exercising to build true capability within teams.

What aspect of your work do you most enjoy?
As a consultant, I've had opportunities to travel the world, meeting new people and experiencing different cultures, from Oman to Jamaica! The challenge of making the issues relevant to different people and helping them to see the benefit of Business Continuity is one I really enjoy. I also learn so much from the various industries I work with, which are an eclectic mix: one week I might be in a window hardware factory in rural Italy, the next in a corporate office of a financial services company in the City of London! The variation is something I love. It is great fun applying the same principles to different settings and tackling the different challenges that get thrown up as a result.
What opportunities have you taken which has helped further your career?

Last year I became a BCI-approved instructor, and I now regularly deliver BCI-licensed courses including the Good Practice Guidelines course. Delivering the four-day course has been a real challenge but also great for deepening my knowledge of the subject; not just in terms of the guidelines themselves, but also by hearing about different approaches to BC from the delegates. I always say at the start of each that the courses are just as much about sharing ideas and approaches to BC as about passing the exam… although passing the exam is usually people's priority!

What has been your biggest achievement to date?
In 2018 I was named Business Continuity Adviser of the Year at the CIR Awards, which was a real surprise. It came off the back of a whirlwind year where we, amongst other things, implemented a management system encompassing BC and InfoSec for a FinTech in the UAE, helping them to ISO 22301 and ISO 27001 certification. That was a real challenge and a great learning experience, as I learned a lot about information security and how it can interact with business continuity. Having recognition for that was really satisfying, particularly as I am relatively early on in my career.
What are your future aspirations?

In the short term, I'm focussing on building as much knowledge and experience as possible. I think it's a really exciting time to be in the industry, with lots of different professions and disciplines beginning to coalesce around the heading of 'resilience'. There's an opportunity there for all practitioners to get ahead of the curve, perhaps by cross-training or at least engaging with different specialisms under the resilience umbrella, finding common ground in a bid to come up with a shared approach.
What advice would you give to those thinking about joining the industry?

Get your CBCI qualification, get involved and don't believe that you need a vast amount of prior experience to begin to be a good business continuity professional. I meet a lot of young professionals or people looking for a career change, concerned they don't have enough grey hair or enough war stories to be taken seriously! Of course, experience is important, but remember that you can learn from the experiences of others. I've been lucky enough to work with people from a range of backgrounds in armed forces, emergency services, and from different industries: each taught me something new. Be like a magpie and borrow the best bits from different approaches. What some might see as a lack of experience can be a real asset in terms of having the versatility to adapt to various industries and be open to new approaches.