Convergence of Business Continuity & Risk Management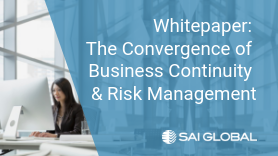 BCI Corporate Partner SAI Global have published a thought leadership piece on the convergence of Business Continuity & Risk Management and how to take advantage of the trend to boost performance and resilience across organisations. You can read more about the report below and download the full report from the SAI Global website.
Business Continuity teams have long been working in isolation. But as business operations rely on a robust digital infrastructure, a cyber incident can have a devastating impact on the continuity of businesses. Furthermore, in this digital era many processes are outsourced to vendors and organisations are realising that Cybersecurity Risk and Vendor Risk Management are closely linked to Business Continuity Management.
Become a BCI Corporate Sponsor to have your content available on the BCI website.
More on