Swiss Chapter AGM 2020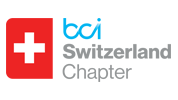 The BCI Switzerland Chapter held their AGM on the 3rd of June as a virtual meeting due to the current Covid-19 restrictions. The highlight of the meeting was the re-election of Susie Ansary-Smith as Chapter Chair.
Treasurer Katharina Schaufelberger stood down from the committee after 6 years service and was thanked by her colleagues for her services.
If you are a BCI member and logged in to the website then the minutes of the AGM can be viewed below.