The BCI launches new Women in Resilience group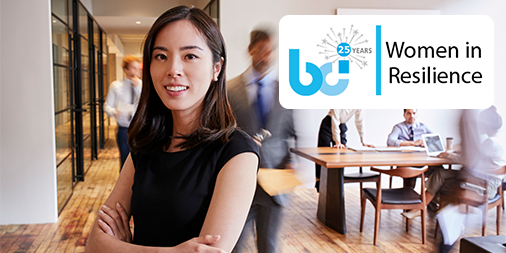 The BCI Women in Resilience (WiR) group has been formed in response to requests from the BCI membership. The group's aim is to connect and empower women in disciplines including, but not limited to, business continuity, crisis management, emergency management, security, disaster recovery, risk and organizational resilience. WiR seeks to attract more women into the industry, and support, and champion those working in the field to become leaders and advance in their careers.

At present 30% of BCI members are female, as is 25% of the active volunteer pool leading our chapters, forums and groups. There is currently one women (11%) on the BCI board. Whilst the group's focus is on encouraging women to join the industry and thrive and succeed within it, we welcome all with an interest in resilience to join us and leverage the information and opportunities we make available.

The 2019 committee leading this initiative is comprised of Gianna Detoni (Chair), Kate Needham-Bennett (Vice-Chair), Ruth Massie, Esra Gulfidan, Sandra Bell and Julia Graham. Gianna stated "The women in resilience initiative confirms the attention that the BCI devotes to its members. The BCI's membership has grown more diverse in recent years and there is a feeling that women should be better represented in the continuity and resilience profession. While companies continue to make every effort to guarantee diversity, this network can help to empower them to guide the industry in a more positive direction".
Heather Merchan, Director on the BCI Board commented that "This is an excellent opportunity for the BCI to offer its members the platform they desire to connect, support and empower industry professionals. I encourage readers to connect with the group and to get involved!".
David West, BCI Head of Communities, said "One of the key features of a mature professional body is that it provides a forum for professionals to engage with new ideas and developments in a setting they feel comfortable with. This new group will help to provide more opportunities to do this for anybody who wishes to engage."
If you are interested in joining the Women in Resilience group you can connect with them on LinkedIn and also with the group on the BCI website. Make sure to subscribe to the latter as it will enable you to receive email updates regarding opportunities and events. Setting-up a BCI log-in is free, and this group is open to all with an interest in the industry.
If you are interested in taking a more active role such as helping to manage the LinkedIn Group, write blogs, or host a webinar or in-person get-together then please email Gianna.
The group is excited as they embark on their journey to build a strong and supportive community, and we hope that you will join them!
More on