The BCI Supply Chain Report receives global media coverage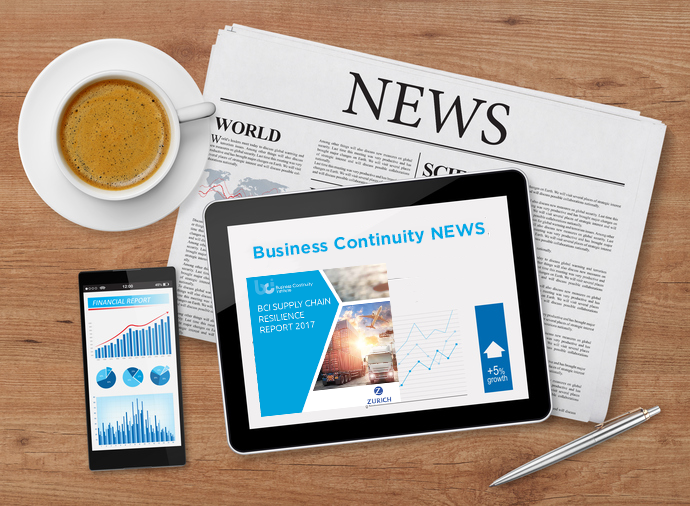 The ninth edition of the BCI Supply Chain Report, in association with Zurich, was launched during the 2017 BCI World Conference & Exhibition, on 7 November, in London.
The BCI Supply Chain Report received wide-spread media coverage and was featured in various online magazines including:
Continuity Central: Business continuity and the supply chain
EPS news: Business Continuity Strengthens the Supply Chain
Global Trade Magazine: Business Continuity Remains Essential in Building Supply Chain Resilience
Supply Management: Fifth of firms don't have full supply chain visibility
Risk UK: "Business continuity remains essential in building supply chain resilience" asserts BCI
Spend Matters Network: IT Outages, Cyber Attacks and New Regulations: BCI's Latest Supply Chain Resilience Report
Supply Chain Management Review: Supply Chain Resilience Examined in Recent Report Supported by Zurich Insurance Group
Most of the articles focus on the main result of the report: business continuity remains essential in building supply chain. But attention was also given to what are today's main causes of supply chain disruptions, which include IT outages, cyber attacks and new regulations.
The BCI Supply Chain report proves once again to be an important tool for business continuity professionals that work in supply chain management. The value of the report is in providing actionable advice to business continuity professionals, supply chain managers, and resilience practitioners, which enables them to improve the resilience of their organizations' supply chains.
To read the full report and discover all the results of the BCI Supply Chain report, please log-in into the website.
More on