The FBCI Membership Process: Chapter 1 - Just Do It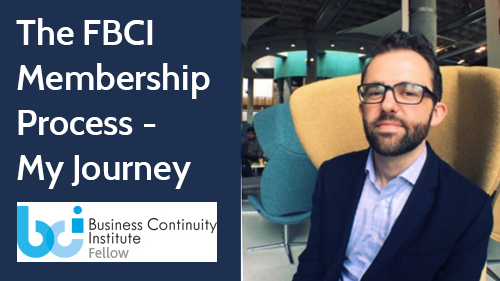 In this new series, BCI Global Board member Luke BIrd discusses his experiences of the process to becoming an FBCI...
August 2019...
"You may be eligible to upgrade your membership ..."
To FBCI? Me? Let me check the criteria...
• 10+ years professional experience? ✓
• 5 + years MBCI ✓
• 20 CPD hours evidence on your BCI profile for the last year ✓
• 120 hours of community contributions based the 9 categories available in the guidance? 30 of which in the last 12 months? hmmm I'll have to check that one...
And so the journey started....
Caveat: I have written this and the following chapter prior to receiving any responses from the BCI membership team. I wanted the explanation of the journey to be as neutral as possible.
Surely not? In the land of giants...
I headed straight to LinkedIn to speak to my industry network to check how this is possible?
I always thought the fellows in this game were the elder statesmen. When I think of FBCI I think Paul Kirvan and Ken Simpson who mentored me very early on in my career. I think of Andrew Hiles who I read at university! I think of the industry leaders such as Des O'Callaghan, Lyndon Bird, Steve Mellish, Charlie McLean Bristol, Andy Tomkinson and Mike Osborne (I'm not even sure if Mike is FBCI but he's been in this space for longer than most and is a wealth of experience and I hold him in the same regard.)
There are many many others to name just a few but you get the picture. Why on earth would anyone think it was possible to apply for a membership held by some pretty brilliant people?
Just Do It
Everyone I reached out to all unanimously say the same thing. "You've nothing to lose. It looks like you meet the criteria. Go for it." So I did…
I have spent years being involved in the BCI and so I decided to give it a shot. I figured at the very least if I failed I would have the bulk of my application and evidence complete and hopefully some feedback from the BCI on what I needed to bridge the gap.
Also I decided this would be a great opportunity to write up the journey and share it with the community. I'm pretty sure there will be plenty of folks who would like to know how this goes.
The next few chapters relating to this post will give you a flavour of what you might encounter in your own FBCI journey.
Find Out More
About the author

Vice President - Business Continuity and Disaster Recovery
Award-winning continuity & resilience professional working in financial services.
Global Board Director for the Business Continuity Institute.
Business Continuity Institute Scotland Chapter Committee Member.
*All opinions shared are mine and not those of the BCI board, which is a collective decision-making body.