The FBCI Membership Process: Chapter 2 - Every journey starts with a first step….and a really big confusing application form!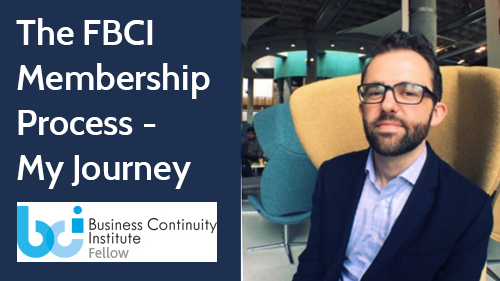 In this ongoing series, BCI Global Board member Luke Bird discusses his experiences of the process to becoming an FBCI...
"I've been meaning to upgrade my membership for a while but [inset reason]"
I have had this conversation multiple times with my BCI network and the reason is usually the time it takes to fill in the form and to gather the evidence.
Hopefully this chapter will help to explain the process and remove the misconception that the process takes a lifetime!
Submit the Application
It's a standard form to begin with - name, address, membership number, years of experience in the different domains ...usual stuff.
Then it asks for three references:
Current employer ✓
Voting member of BCI ✓
Anyone who you think can vouch for your experience and competence ✓
I used a previous client for number 2 and someone who I've worked closely with in the blogging and thought leadership space for several years.
This is all easy stuff right? Well here comes the more challenging part worth writing about.
Community Contributions
I'd never previously looked at the fellow criteria but I was recently told by my network that the BCI had updated the criteria to widen the types of evidence allowed to demonstrate your involvement in the BCI and wider community.
There are 9 contribution areas as follows (I've paraphrased):
Pro bono / not for profit work undertaken in our related profession
Presented on our related profession to a recognised education institute
Mentoring via the BCI or another verifiable program
Published profession-related articles online
Supported BCI thought leadership programs e.g. GPG updates, BCAW Webinars etc.
Supported the development of the industry or institute activities e.g. standards committees, promotional events, driving membership growth
Organise and/ or present at profession-related event e.g. BCI World, BCI Regional conference etc.
Served as a BCI membership auditor and assessor or awards judge.
Active management or governance of the BCI e.g. board member, chapter committee member etc.
A few important rules for the above:
You need to list and evidence 120 hours of contributions
30 of those hours needs to be in the last 12 months
You do not need to hit every one of the 9 areas!
I'm not going to lie this did take me a couple of hours every day for about a week to compile this and that was mostly because up until this year I was pretty poor at maintaining my CPD evidence so I had to search back through the file folders and emails to gather everything.
At least now I have it put together and if I'm not successful I can simply add to it.
Submission
Once all the hard work is done you go back to your profile on the BCI website and you click through the membership upgrade journey and upload your application form and evidence.
Note: I made the mistake of trying to submit my evidence in the form of a word document table with embedded file objects but the website wouldn't allow it so I had to submit individually.
On submission I got an email back saying the BCI will be back in touch within 2 weeks so watch this space for Chapter 3!
Find Out More
About the author

Vice President - Business Continuity and Disaster Recovery
Award-winning continuity & resilience professional working in financial services.
Global Board Director for the Business Continuity Institute.
Business Continuity Institute Scotland Chapter Committee Member.
*All opinions shared are mine and not those of the BCI board, which is a collective decision-making body.