The FBCI Membership Process: Chapter 3 - The Interview Panel Awaits!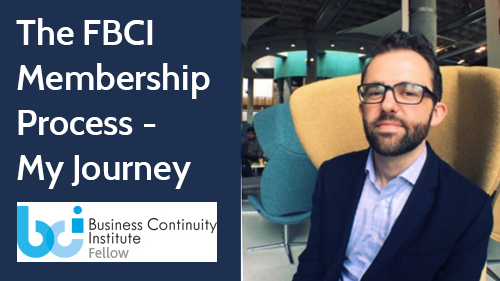 In the latest instalment of this series, BCI Global Board member Luke Bird discusses his experiences of the process to becoming an FBCI...
So it's been about 6 weeks since my submission and I now have an interview date.
I received the email of the conference call details, date and time and of course who will be interviewing me. Immediately 2 of the names leap up out at me. Ian Clark and Pete Freulinghaus. So I immediately hit Google and ran their names against the BCI to confirm in my mind why. They are all over the membership community and have been for years; winning awards, getting nominated, judging awards, writing articles and presenting, boards, membership councils, the lot! Really active experienced professionals.
Now I've never spoken to either of these gentlemen before but even I know from previous conferences where I've heard their names alongside the likes of Paul Kirvan and Des O'Callaghan. They are well-known, experienced BCI members with a huge wealth of experience as professionals and as members.
As you'd expect I can't help but suffer slightly from imposter syndrome here. I mean the people assessing me have more years of work experience than I have even been breathing! This immediately makes me doubt the amount and quality of my submission. I don't know why but I wasn't expecting senior BCI members to be checking my homework but when you think about it actually makes sense. If you want to join this peer group and have the grade of membership then you better make sure you've made every effort to evidence your contributions.
I imagine most people would try to prepare for this as did I but it was pretty pointless in all honesty. I asked several FBCIs, including two who recently passed via the new assessment. All of which told me the same thing "it's not really something you can prepare for". That didn't stop me though so I listed the types of questions I thought I'd be asked and prepared notes for my response to help me along.
Let's see how this goes!
The day of the call... A severe drop in confidence.
I was not feeling good... here's a snap shot of my thoughts on the train into work...
"Prepping didn't really work did it? Stumbling over my rehearsed answers, blanking, doubting myself. It's funny I haven't felt like this since I first started in the industry. It's probably a combination of the lack of prep materials offered from the BCI other than a calendar invite and "just be yourself" and of course the heavyweight audience. I mean why would anyone want to defend their experience against some of the most experienced folks in the game? Maybe I'm overthinking it. Just be yourself Luke it's got you to the table in the first place and anything else won't work for you."
Clearly in a spiral of self-doubt as I step towards my office.
The Panel Session…
Well I just got off the phone from the panel session. After my mini meltdown just beforehand I actually really truly enjoyed it. (I know, strange right?)
It was such a good opportunity to have some of the most experienced professionals in my world talking to me about the job, the membership community, my development and involvement. I feel truly invigorated by the experience.
I spoke with David Thorp at an event last week who said "they aren't going to try and trip you up Luke". He was completely right. They were welcoming, engaged and supportive throughout the hour and the fear factor of the unknown that I mentioned previously never happened. I think my earlier mind-set for something like this is totally natural and I wanted to share that it's okay to doubt yourself but you have to keep going. I can't be the only who feels like that.
Now I'm not sure right now whether I will get this so I have deliberately written this part pre-result so I am unbiased. I feel grateful for the experience and I have taken a lot away from it which I'll conclude on later.
But I guess you want to know what happened.
I started with my opening Whitney Houston number… just kidding.
The chair welcomed and introduced himself and the panel along with an observer and the BCI membership manager. They'd been on the call 30 minutes before to get organised and they received my portfolio of evidence prior to this.
They explained the structure of the session advising each section I populated on the form would be questioned on and they had divided the sections across the panel. I had about 7 minutes a section to receive and answer questions. Then when I drop off the call they will discuss after and I will be told the result after that. It seemed pretty straight forward.
It started with a general background "how did you get to where you are now, etc." type question. Then we dived right into the sections.
The questions weren't designed to trip you up. They just want to understand what you've contributed and why so they can get a bigger picture about you. It was mostly open questions like "tell me what the driver to do such and such was". I never felt under pressure at any point.
At the end of the session when offered the chance for any final questions from me I couldn't help but ask whether they felt as existing FBCIs that the new criteria was diluting the value of the grade considering those few who have it? The general consensus back to me was absolutely not. They want an injection of proactive enthusiasts with experience to keep building the BCI and they welcome the criteria as a benchmark to apply and assess against. It was also interesting to learn that whilst the BCI membership has increased overall, the number of fellows hasn't moved all that much. Take from that what you will.
I'll write a blog on the end result and any such feedback as well as my own conclusions but I serve this as a raw unbiased account of my experience today. I hope you find it useful in your own membership journey.
Find Out More