The FBCI Membership Process: Chapter 4 - FBCI and Beyond!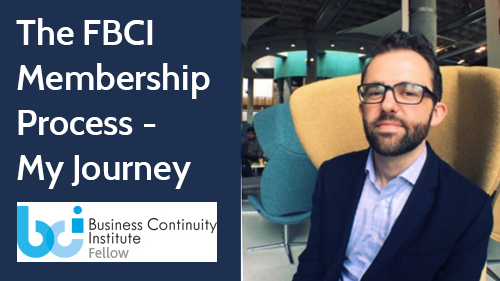 In the final instalment of this series, BCI Global Board member Luke Bird discusses his experiences of the process to becoming an FBCI...
The Result…
So the panel is done and I had a really good time as you know from my previous blog. I wanted to write the panel section prior to any outcome so I was as unbiased as I could be! I came away feeling like I had another rush of energy for our profession. I fully recommend it!

Fast forward a couple of days…
I get an email from the BCI office congratulating me on a successful interview, the breakdown of notes from the discussions and the overall decision. I'd been awarded my FBCI and attached was my certificate which, before I could blink, I put up on LinkedIn to share the news with my colleagues.

The online community were so great in congratulating me. I had other members who I'd yet to meet reaching out to say hello and well done. It felt like a global family moment and I intend to do the same every time I see someone pop up with their good news. Let's connect!

It was also really nice to be congratulated by the likes of Kirsty and Emma in the BCI office as they have answered many of my random but related questions along the way. One of the things I love about our organisation is that there seems to be a real family feel between the office and its members. They were genuinely delighted for me and it was very kind of them. Thank you for your support along the way.

Baby-Faced Fellow…
I'm told by the office I am the youngest ever to attain the FBCI grade by some 9 years. Which on the face of it looks like a pretty big achievement and I am proud of it!

However, if we take a step back, what I really think is happening here is a shift in the membership landscape. A younger more mixed group of professionals in every aspect you can imagine are emerging as the next generation of the BCI. I'm really proud to be a part of this diverse membership community.

The career pathway from direct graduate entry now means in the UK for example, an individual can start working in BC from university and qualify to apply for this grade by the time they reach their very early 30s (assuming they have ticked all the right boxes along the way).
I'm aware of numerous peers around my age who could and should be thinking about applying so my youngest ever title probably won't last for long but that is a good thing!
Hopefully I continue to be baby-faced though…

The Reality Check…
Okay to finish and conclude my journey to FBCI (which I might add goes way beyond this 6 week journey and back into the days before I could even grow a beard!) I want to move away from my jokes and be serious for a second.
I believe that the Fellow grade, whilst being a top achievement, shouldn't just be about awarding your journey over the 10+ years .
I believe it's a statement about your role in the membership community. It's a mark that says you will continue to support and encourage the profession and our membership in any way you can to continue to see it grow above and beyond what exists today.
I strongly encourage those on the fence about applying to give it a go. It's given me a lot to reflect on both in my previous contributions and how else I'd like to help.
The aim of this series was to give an honest account of the application, making it accessible for those who had the same reservations that I had. If anyone has any questions please do not hesitate to reach out to the office or to me directly on LinkedIn and I will gladly support you.
You may achieve it, you might not right away, you might have to go back again but you will value the experience on reflection that I am sure of!
Find Out More