The impacts of Covid-19 on the agrifood chain and food security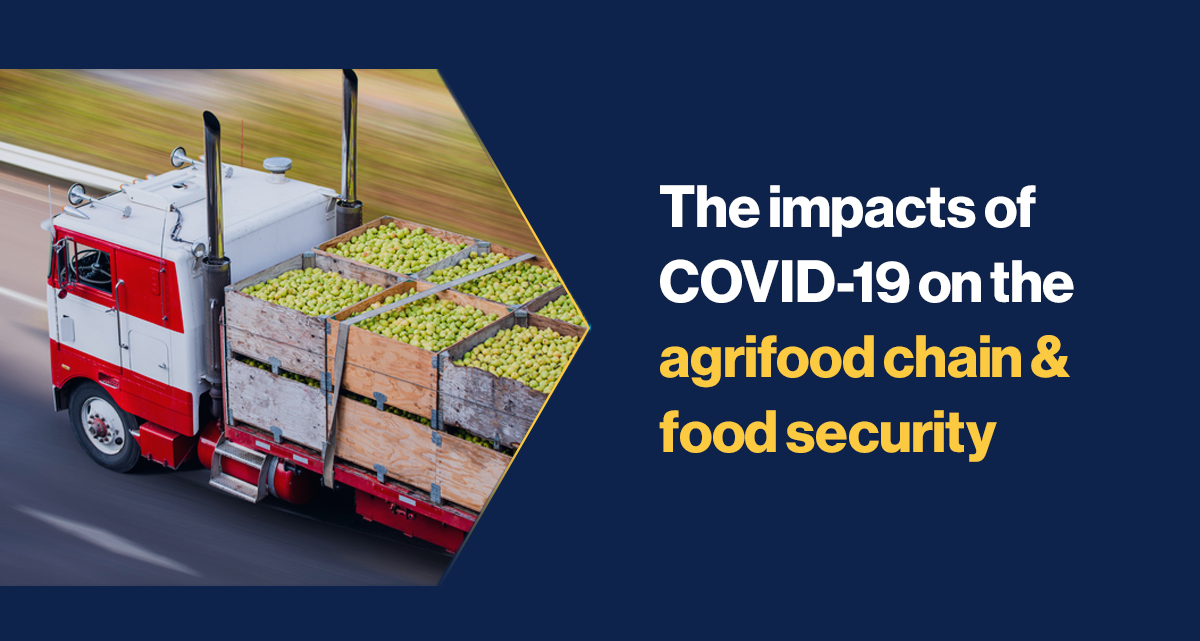 According to Food and Agricultural Organization of the United Nations (FAO) experts, the global crisis generated by Covid-19 will have severe impacts across agrifood systems. The various stakeholders in the sector are calling for measures to protect all supply chains and, at the same time, to mitigate the risk of shock, especially with regard to the most fragile populations. As a result, appropriate risk management & business continuity plans should be defined and optimized, as soon as possible, to avoid the disruption of food systems, while ensuring food security.
Global agrifood trade – According to FAO studies, one out of five foods - that we normally consume - crosses at least one international border; moreover, countries that depend on imports of agrifood products are more vulnerable, since a decrease in imported volumes – as is happening now - can generate the devaluation of the currency and a subsequent increase in food prices and, therefore, affect negatively the family budget. A situation like this - in the long term - can have an inevitable impact on public health and natural development of future generations, as well as on current and future economic productivity.

It would be desirable, for all countries, to revise their trade and tax policies in order to create a favorable market scenario with respect to agrifood products, avoiding the so-called "beggar thy neighbor" policies, i.e. policies at the expense of other countries in the form of higher export taxes or an outright ban on exports by some countries, as has happened since 2008.

Just in this direction, last April 2020, the Italian Deputy Foreign Minister, Emanuela Del Re, issued a warning to the association "Friends on Food Security and Nutrition" (composed of 41 UN countries): "As governments, we must do our best to keep trade routes and distribution chains functioning ... There is no justification for restrictions on the national and international food movement."

On this occasion Italy's support was confirmed for the FAO to launch a "food coalition", i.e. working together and involving relevant players in the agri-food sector (the scientific community in primis), in order to ensure the security, sustainability and resilience of this strategic sector during and after this pandemic crisis.
The European Scenario - The EU has published guidelines in terms of internal border management, in order to safeguard supply chains: the continuous flow of goods - including agri-food goods - through the so-called "green lanes", is ensured and the crossing of internal borders – in terms of health checks and screenings - takes no more than 15 minutes. It should also be remembered that the European agri-food system contributes to the food well-being of more than 500 million European citizens, as well as being one of the most important productions at global level.

Business continuity - a powerful lever to guarantee the agrifood supply chain and food security

The lockdowns imposed to contain Covid-19 in various countries is, inevitably, impacting on supply chains and agri-food logistics. FAO recently stated that the availability of food has been adequate everywhere, as well as world stocks. The continuous widespread lockdowns are impacting the agri-food supply chain and, if governments do not take quickly adequate measures to ensure the resilience of the sector, disruptions could occur in the coming months, with serious impacts on public health, already heavily "stressed" by the pandemic.

A careful risk assessment and an articulated business continuity plan can support companies to deal with unforeseen events that may threaten their sustainability or even their existence, helping to cope with systemic effects such as livestock diseases, pandemics, supply chain disruption or logistics. It is necessary to identify mitigation measures, such as alternative suppliers, in times of "peace", in order to be resilient and ready to cope with crisis in the so-called "times of war".
The G20 Special Summit of Agriculture Ministers was held in Washington on 21 April 2020. On that occasion FAO, IFAD (International Fund for Agricultural Development), the World Bank and WFP (World Food Program) issued a joint statement on the impact of Covid-19 on food security and nutrition, especially with respect to the populations of the poorest countries.

The statement observes that the"Covid-19 pandemic has caused a high number of casualties worldwide and represents an unprecedented challenge with profound social and economic consequences, especially with respect to food security and nutrition. The responses must be well coordinated throughout the world, to limit the consequences, end the pandemic and prevent it from happening again."
Conclusions
The aim, today and in the future, is to ensure health & security of agri-food products, as well as health of various actors and consumers, throughout the agrifood supply chain.

It is also desirable for countries to avoid any unjustified restrictive measures, which could lead to excessive food price volatility in international markets and threaten food security and nutrition of the world's population, particularly those living in the poorest environments. Emergency measures, to counter this pandemic, must be targeted, proportionate and transparent; we need to strengthen control, assess risks and apply the principles of continuity and resilience.

The various countries and international organizations must work more and together to strengthen international cooperation and safeguard the agri-food system; to share best practices in terms of food and nutrition security; to promote correct scientific information and research; to ensure responsible investment, innovation and reforms that will help improve the sustainability of the sector.
As Hippocrates of Kos, the ancient father of all doctors, said: " Let food be thy medicine, and let medicine be thy food."
About the author

Business Continuity & Risk Management Consultant
Certified in Business Continuity (AMBCI BCI, UK) and in Risk Management (FERMA Rimap ®), she is a consultant in Business Continuity & Risk Management and promote the culture of resilience at various institutions and universities in Italy.
She has an extensive,recognized managerial experience in several corporate functions, particularly in administration management, institutional relations & events, facility & procurement management with main international companies.
Deputy Leader of the BCI Italy Chapter, Italian representative of the Business Continuity Institute (BCI), UK and member of the BCI Professional Conduct Committee, UK, she is also a member of the following associations:  ANRA, FERMA, AIPSA, CLUSIT and UNI. 
Lecturer in "ISO 22301 - Business Continuity & Resilience" Introductory Modules at the "Cyber Strategy & Governance" Course, created in partnership by POLYTECHNIC MILAN and BOCCONI UNIVERSITY.
Author of several articles on Business Continuity & Risk Management topics published by several online journals, such as DigitalAgenda360, Cybersecurity360, AI4Business, Risk Management360, EnergyUp, Blockchain4Innovation, Internet4Things, Industry4Business, ANRA - RM Magazine, ISPI Online, Insurance Review, UNI Magazine online, Safety&Security Magazine, Leadership&Management Magazine.