The Importance of Business Continuity Training & Certification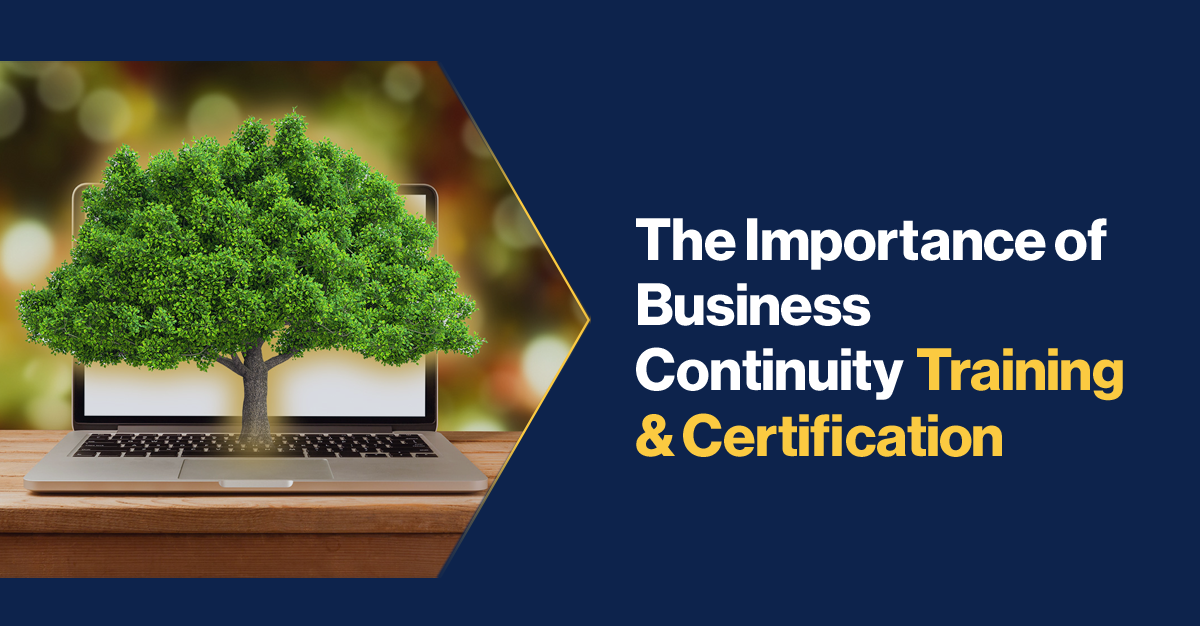 Contributors: Alberto Mattia, CEO, PANTA RAY, Becca York, BCT Manager, Business Continuity Training Ltd, and Gary Vogel, Senior Manager, Resilience Services RiskLogic Pty Ltd.
We virtually 'sat down', with three BCI Licenced Training Partners to talk Business Continuity training and certification as a tool to build resilience and improve professional development. Here's what they had to say.
If there is one thing organizations have learned from the pandemic, it's that Business Continuity is an essential element within business strategy. If you are still not familiar with this discipline here is a recap for you…
As described in The BCI's Good Practice Guidelines 2018 edition, "Business Continuity is the key discipline that sits at the heart of building and improving the resilience of organizations. Business Continuity Management identifies an organization's priorities and prepares solutions to address disruptive threats."
Crisis situations are inevitable; they come in different forms, (flooding, power outages, pandemics, terrorist attacks and more), they are often unpredictable, they can cause different degrees of disruption and consequently damage organizations from different perspectives (financially, structurally, reputationally and so on). Over the course of history, organizations' need for resilience has grown exponentially, hence Business Continuity Plans have become a key element within business strategies.
Who is responsible for building and implementing Business Continuity Plans? The simple answer is the Business Continuity professional/consultant; but in many organizations, we often see Business Continuity responsibilities sit in other roles (e.g., Operations Managers, Crisis Managers etc.). Regardless of this distinction, those with Business Continuity duties in their job description are responsible for planning, structuring, implementing, and testing Business Continuity Plans – as well as ensuring that these are embedded within the organizational culture.
Business Continuity is not just a 'plan B' to use in case something goes wrong; it is an ongoing process which grows and evolves with the organization itself, its integration within the culture of the organization is what make a business resilient.
The recent COVID-19 pandemic has made the above argument very clear. Moreover, recent BCI research has shown that those organizations with Business Continuity Plans in place were more successful at recovering from the consequences of the pandemic compared to those that did not have any plans in place. Alberto Mattia, CEO of PANTA RAY believes that "As far as the general perception around the discipline is concerned, the pandemic has boosted the appreciation for the strategic value of business continuity. And the uptake is increasing in small to medium enterprises, as well as in sectors that were less aware of its importance."
As the uptake for Business Continuity grows, so is the need for staff members with BCM competencies and skills. From this perspective, it is imperative that those with Business Continuity responsibilities receive appropriate training and gain key knowledge of all the steps required to ensure that effective Business Continuity Plans are in place. Becca York, BCT Manager at BC Training, explains that "As Business Continuity is vital for all organizations to have in place, business continuity training is relevant and valuable to all organisations, particularly to ensure those involved in business continuity are trained to fulfil their responsibilities effectively." Moreover, Mattia added "Training is important in any professional context, but it is definitely vital in business continuity. Constant training is mandatory to keep up with new technologies and to make sure our set of skills is still current and fit for purpose. Everyone, literally, should go through some business continuity training, but of course the needs vary depending on the role and the involvement in the programme."
Involvement within the Business Continuity Programme comes in differing degrees depending on how much knowledge and awareness an employee needs to have. However, when it comes to Business Continuity practitioners, training and a professional qualification are key for effective execution of their role. York explains "Business continuity training ensures that industry professionals are equipped with the skills and expertise to succeed in their job role." Mattia also added, "There is a certain misconception according to which you can work in the business continuity industry even if you do not hold any professional qualification. I think this is driven by the fact that the basic concepts of our discipline are just about common sense. Yet, common sense is not so common, and trying to apply it to groups of people and organizations without proper competences has proven to be extremely ineffectual (and somewhat dangerous). Training is mandatory for every business continuity practitioner 'worth their salt'."
The market is filled with different training courses and education offers, online, in-class, some require an exam, and some do not. When it comes to choosing the right course, Business Continuity professionals need to take into consideration several factors: the organization providing Business Continuity training, what type of exam and certification they offer, and if there are any benefits in their membership scheme. Not all training providers and equal and same goes for training courses and certifications.
York explains "To effectively implement business continuity to the best of the individual's ability, it is beneficial to attend recognised training courses, to ensure that best practice is being followed. As the BCI is the leading institute for business continuity professionals worldwide, training that is accredited by the institute provides a benchmark for business continuity training and is recognised across the globe."
According to Gary Vogel, Senior Manager, Resilience Services RiskLogic Pty Ltd, a course like the CBCI Certification will teach you "absolutely everything you will need to know about building, maintaining, assuring, evaluating, and continually improving a business continuity management system." Moreover, he added that the course provides insight on some of the lesser-known areas around "how to work through the challenges of embedding, building buy-in, and influencing culture" – a great value add, especially for those who are newcomers to the industry.
Speaking of 'added value', instructors also play a crucial role in how the course is delivered and most importantly its quality. Although a knowledge base like the GPG can be a great practical guide to Business Continuity Management; an instructor that shares their experience and real-life examples can really make a difference in the learning process. Vogel admitted, "Instructors are hugely knowledgeable about business continuity and experienced in the practical implementation of the theory in the GPG. They are also passionate about the course content. Some may even be funny!". As a recommendation, before registering or signing-up to courses, it is important to check if the professional leading the training is approved by The BCI or any other recognised institute.
And if you are looking for even more added value, then you should look for the format of the course and how it is delivered. COVID-19 has pushed training providers – especially BCI Licenced Training Partners - to move their courses from in-class to online, a format which has worked very well, and it might stick around. This has given individuals the opportunity to study remotely, with flexibility and safety – especially now with the current pandemic situation. Another benefit of this new virtual delivery of courses is that it has allowed training providers to reach new students in areas outside their scope. This has made the courses more interesting from both a learning and networking perspective. Of course, self-study is still an option, but is it worth it? Vogel said "We do not recommend self-study because students miss out on the practical anecdotes and activities which greatly help to embed the theory. It is also a missed opportunity for building an important network."
When it comes to kick-starting a career in Business Continuity the most common question is 'where do I start?'. Like in most industries, having a professional certification is an important value added which in most cases makes an individual 'stand out from the crowd'. Vogel notes that many people do not start out wanting to be Business Continuity Managers, rather they fall into this role as part of their current jobs (e.g. operations managers, crisis managers etc.), which is what leads them to then get their CBCI Certification. However, for those looking to get into Business Continuity, he added "the CBCI tells a prospective employer that this applicant knows best practice in business continuity, which is a great advantage". Mattia adds that while certification is not necessary to begin a career in business continuity, many delegates who were newly graduated have attended CBCI certification and achieved immediate success in securing a job in the field. Both Vogel and Mattia agree "it definitely helps".
Certification is also important for experienced professionals already working in Business Continuity; especially for career progression, Mattia admits, "As far as progression or new job opportunities are concerned, it is no mystery that the job market is extremely competitive, and at a certain point these certifications are a must to prove you are able to master the discipline." York also explains that "Having the CBCI, or any BCI post-nominal credential, is instantly recognisable to those in the industry and demonstrates your proficiency in business continuity at the highest standard. This can really set individuals apart when seeking new job opportunities or career progression."
Passing an exam like the CBCI will not only deliver a globally recognised certification in Business Continuity, but professionals will also access the BCI Membership – which provides a great array of benefits and opportunities to help them through their professional development.
If we want a resilient future, organizations need to continue to invest in Business Continuity – especially when it comes to training. Training should be consistent and should be of different degrees depending on the roles. In his experience, Mattia said, "organizations that invest once in the CBCI Certification for their business continuity staff are willing to repeat the investment as new people join the team." Since the pandemic started, Vogel admits that organizations are placing more value in Business Continuity, "strong, trained and exercised response teams are being seen as much higher value now, given they were critical to the success of organisations in recovering from COVID-19."
The investment in Business Continuity is therefore bound to increase more and more in the coming years as a key basis to building organizational resilience. As Mattia also reported, "organizational resilience is no longer a nice-to-have quality, it is a critical success factor and a basic requirement for the sustainability of any business". Moreover, Business Continuity is also expanding and becoming a more collaborative discipline that helps to build resilience across departments. In this regard, Vogel stated "We are seeing other disciplines coming into the mix now: IT security; IT DR; personal resilience; socially responsible strategic decision making, etc. Business continuity will always be a very important element for resilience during times of adversity."
More on