The Industry-Wide Crisis Management exercise WISE in HK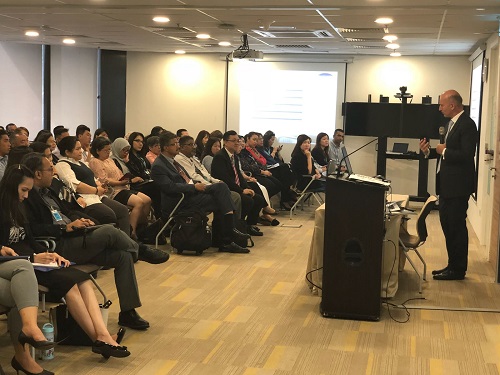 Following the GRCCS conference in July 2018, leader of the BCI Hong Kong forum, Willem Hoekstra AFBCI made a presentation to a group of professionals from Malaysia's RHB Banking Group about the industry wide crisis management exerise that is run in Hong Kong each year.
WISE 2017 was successfully held 27th October 2017, following the inaugural event held in 2015. This exercise series enhances Hong Kong's position as a world-class financial services centre by helping to strengthen the resilience of the industry. The event was led by the industry, overseen by the Hong Kong Financial Services Business Continuity Management Forum of which Willem has been the driving force behind WISE. The BCI contributed to the exercise with their Good Practice Guidelines and practitioners expertise.
45 financial institutions participated, with each Crisis Management Team responding to a systemic threat to the Hong Kong markets. Scenario development was supported by the Hong Kong Police, Regulators (HKMA and SFC), Hong Kong Exchange (HKEX), Financial Times and Bloomberg.
A web based portal, designed by Ruder Finn Asia was used to deliver the exercise materials to the various participants. Crisis Management Teams, consisting of senior management from each financial organisation, could view video news clips, social media, and news headlines.
A key feature for 2017 was the ability for each participant to respond to the news and social media by uploading press statements and their own social media communications. This created a highly interactive environment designed to allow organisations to practice their public facing response to a crisis.
The presentation attracted a great deal of comment from the group who were particularly interested in creating a similar event for Malaysia. A suggestion was also made for a much wider regional exercise involving the existing Hong Kong group and other countries.
A full report of the exercise can be viewed here.