Webinar: Earthquake preparedness: key strategies to protect your business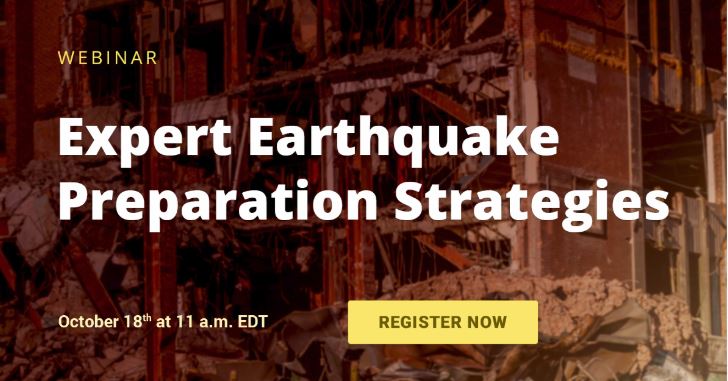 In an upcoming webinar, earthquake preparedness expert Steven Eberlein joins Danielle Ricci, Vice President of Marketing for AlertFind to talk about how businesses can prepare for the unique challenges that earthquakes pose.
Steven will discuss the key areas that companies must address – the unique challenges of preparing for earthquakes because they hit with no notice. He will walk organizations through how they can better prepare their employees and their operations with the right training and preparedness mindset. You can read some highlights from their conversation here.
The webinar will cover:
The unique threat that earthquakes pose in the U.S. and around the globe

How businesses need to prepare for earthquakes

How to shift to a more sustainable preparedness mindset

How promoting personal preparedness with employees' benefits businesses
Join Steven and Danielle as they help organizations better prepare for earthquakes in their new webinar on Thursday 18th October at 11 am. To register, please click here.
AlertFind is a proven and trusted leader in the ENS category. Hundreds of companies and organizations around the globe-including many of the largest enterprises-rely on us to help protect and connect millions of employees, and ensure business continuity in times of crisis. From natural disasters to cyber attacks to civil unrest and more, AlertFind can help safeguard your organization in any emergency.
More on